« NY Times....The Terrorist's Tipsheet | Main | Wictory Wednesday Diana Irey »
June 28, 2006
Israel Fights Back and Arabs Kill Websites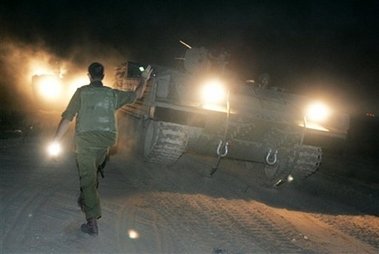 A column of Israeli military vehicles advances towards the Gaza Strip at an army base outside Kibbutz Kerem Shalom, near the border with the southern Gaza Strip, early Wednesday June 28, 2006. Israeli troops entered southern Gaza and planes attacked three bridges and a power station, knocking out electricity in most of the coastal strip early Wednesday and stepping up the pressure on Palestinian militants holding captive a 19-year-old Israeli soldier..(AP Photo/Oded Balilty)

Israeli troops enter Gaza; Bridges hit

Israel said only freedom for the captive soldier, Cpl. Gilad Shalit, could defuse the crisis, not a political agreement. The Israeli military said in a statement that the object of the attacks on the bridges was "to impair the ability of the terrorists to transfer the kidnapped soldier." Knocking down the bridges cut Gaza in two, Palestinian security officials said.
Early Wednesday, Israeli warplanes attacked one of the bridges for a second time, Palestinian security officials said. Before daybreak, Israeli warplanes flew low over Gaza city, causing sonic booms and breaking windows.
Overnight, Israeli planes fired at least nine missiles at Gaza's only power station, cutting electricity to much of the Gaza Strip, Palestinian security officials said. The station's three functioning turbines and a gasoline reservoir were engulfed in enormous flames that firefighters were unable to control.

Hundreds of Israeli web pages hacked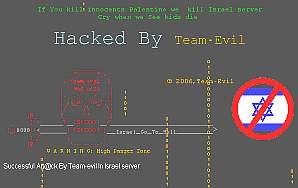 The message left by 'team evil'
In light of Israel's recent incursion into the Gaza strip a group of hackers have attacked hundreds of Israeli web domains, rendering them out of use. When clicking on one of the pages a message appears:
"Hacked by Team-Evil Arab hackers u KILL palestin people we KILL Israel servers"
Hundreds of websites were damaged by hackers in recent hours, following IDF activity in the Gaza Strip. The hackers are members of the Moroccan "Team Evil" group, responsible for most of the website damage in Israel in the past year. This is the largest, most concentrated attack on Israeli websites in recent years.
A range of different websites have been targeted by the group including banks, medical centers, car manufacturers and pension websites. Sites affected include Bank Hapoalim, the Rambam Medical center, Bank Otsar Ha-Hayal, BMW Israel, Subaru Israel and Citroen Israel. The real estate company Tarbut-Hadiur and the Jump fashion website have also been targeted.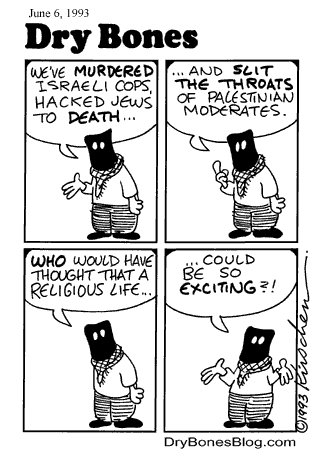 Thank you IDF! Thank you Dry Bones, this cartoon is right on!

.......


* Dry Bones
* Israeli Cool ( you can go here for updates as they are happening)
Posted by Wild Thing at June 28, 2006 09:45 AM
---
Comments
Mossad has some work to do in Morroco, and one hopes Delta Force is in on the kills.
Posted by: Rhod at June 28, 2006 11:37 AM
---
So ... we slaughter tangos by the score, and these islamatards deface a few ( easily replaced ) webpages.
Heh ... sounds like quite a good deal there.
Posted by: Kristopher at June 28, 2006 01:06 PM
---
Oh gosh Rhod that would be awesome to have Delta Force in on it too.
Posted by: Wild Thing at June 28, 2006 07:25 PM
---
Kristopher heh heh, yes it does.
Posted by: Wild Thing at June 28, 2006 07:26 PM
---
I would imagine that while these hackers are at work, they are being backtracked and pinpointed, by both Israel and the US. Don't ya just love technology, especially in the form of B2 bombers and J-DAMs
Posted by: TomR at June 28, 2006 08:30 PM
---
OH yeah Tom!!!!! I sure do, absolutely love it.
Posted by: Wild Thing at June 29, 2006 01:11 AM
---