« NorthEastern Floods Force Evacuations | Main | Aksa Martyrs Brigades »
June 26, 2006
IDF Soldier Kidnapped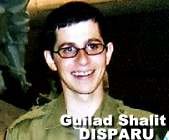 Sunday morning, 2 soldiers were killed - Pavel Slutsker and Hanan Barak, while a third Guilad Shalit was kidnapped during a Palestinian attack at Soufa,near the kibbutz Kerem Shalom. At midnight, Monday, it seems that Guilad is still alive.
Israel's prime minister has promised prolonged and extensive military action to free Guilad Shalit, an Israeli soldier.
"Let it be clear: We will reach everyone, no matter where," Ehud Olmert said in a speech in Jerusalem.
No Israeli soldiers have been seized by Palestinian militants since 1994 and it is being seen as a crisis in Israel.
The kidnap is thought to have taken place during a guerrilla attack on an Israeli guard post outside the Gaza Strip on Sunday.
Mr Olmert said he had instructed army chiefs to be ready for "a prolonged and extensive military operation in order to strike the terror organisations and commanders".
He said he held senior officials in the Palestinian Authority including Mr Abbas and Prime Minister Ismail Haniya of Hamas responsible, with "everything that it implies".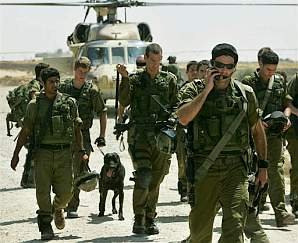 Tunnel Attack
Cpl Shalit was the gunner on a tank attacked in a pre-dawn raid by militants from a 300-metre tunnel dug under the Gaza border fence near the Kerem Shalom crossing, Israeli military officials said.
Seven or eight gunmen lobbed grenades at the tank and an empty armoured personnel carrier, the military said.
Two other members of the tank crew were killed in the raid, Israel's army said in a statement, and at least two Palestinian militants were also killed.
The raid was claimed by the military wing of the ruling Hamas party, Izzedine al-Qassam, the Popular Resistance Committees and a group calling itself the Army of Islam.
Israeli tanks pushed into the Gaza Strip after the attack and on Monday morning blew up the tunnel, sending a thick plume of black smoke into the air.

Wild Thing's comment......
Prayers for this soldier and his family, and all of our friends in Israel.
UPDATE:
Israel rejects militants' demands over kidnapping
Palestinian militants on Monday demanded Israel free Palestinian women and minors in its jails in exchange for information on a kidnapped Israeli soldier, but Israel rejected any deal and threatened a big offensive.
UPDATE: June 27th
The IDF blew up the tunnel used Sunday by Palestinian terrorists to perpetrate their attack at Soufa. This subterranean passage measured 1 kilometer in length, of which 300 meters were in Israeli territory.
Posted by Wild Thing at June 26, 2006 09:55 AM
---
Comments
Thank you Ms. Thing, for posting this.
It seems that outside of Israel, no one really cares about this brave young soldier who is suffering horrors at the hands of terrorists.
Posted by: LindaSoG at June 26, 2006 09:05 PM
---
Linda, people care. Many, many people hope the Israelis get him back OK. If not, I hope a large part of Gaza is depopulated with fury.
With all the hostage taking by the "religion of peace", comments become repetitious. I want the rest of the world to put islam to rest, totally and permanently so that comments are not needed.
Posted by: TomR at June 26, 2006 09:38 PM
---
People do care. I personally think Israel has shown unbelievable restraint by not pushing Palestine into the sea yet.
I really hope they do this time. It'd have to make them feel better and it would certain make a lot of Americans feel better.
Just my opinion of course.

Posted by: beth at June 26, 2006 11:46 PM
---