« White House releases unredacted text of Ukraine call | Main | Former House Speaker Newt Gingrich says the Democratic Party has 'lost its mind' »
September 25, 2019
"WITCH HUNT PART 2" Republicans Slam Democrats Over President Trump Ukraine Hysteria
"WITCH HUNT PART 2" Republicans Slam Democrats Over President Trump Ukraine Hysteria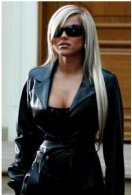 Wild Thing's comment.........
Democrats destroying our country with their well known corruption. Disgusting and many should be in jail. Nancy, and the Democrats are a disgrace, and continue to put the President, and all of us ina dangerous spot! She is the one who needsto be, and deserves to be impeached!

Thank you the Republican Party. You make me proud to be a Republican.
Posted by Wild Thing at September 25, 2019 11:01 AM
---
Trackback Pings
TrackBack URL for this entry:
http://www.theodoresworld.net/mt/mt-apples.cgi/18384
Comments
Post a comment