« Press Briefing with Acting Director of U.S. Immigration and Customs Enforcement Matthew Albence | Main | President Donald J. Trump Has Reached Agreements with Japan to Improve Trade Between Our Nations »
September 26, 2019
The whistleblower complaint is more les from the left, they are so afraid of Trump 2nd term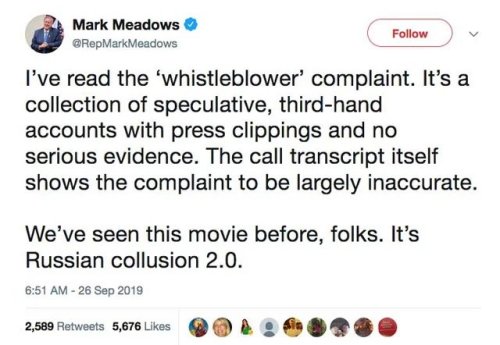 "This whistleblower complaint is an even bigger hoax than the Russia delusion," said the Trump campaign's National Press Secretary Kayleigh McEnany. "It's built on second-hand information echoed by the biased fake news media."
The press secretary said in the release that the complaint was "cobbled together by a partisan bureaucrat with 'no direct knowledge.'"
"Democrats are trying to block the inevitable re-election of President Trump because they know they can't beat him fair and square at the ballot box," McEnany also said.
Posted by Wild Thing at September 26, 2019 09:25 AM
---
Trackback Pings
TrackBack URL for this entry:
http://www.theodoresworld.net/mt/mt-apples.cgi/18390
Comments
Post a comment