« President Trump Holds a Press Conference in Osaka, Japan | Main | President Trump Delivers Remarks to United States Service Members Osan Air Base, Korea »
June 30, 2019
HISTORIC....US President Donald Trump has become the first US president to step into North Korea

US President Donald Trump has become the first US president to step into North Korea
Donald Trump became the first sitting American president to set foot in North Korea, briefly crossing the border in the Demilitarized Zone after meeting the country's leader Kim Jong Un for the third time.

SEOUL, South Korea — Taking an unprecedented step onto North Korean soil, President Donald Trump announced Sunday that Washington and Pyongyang will relaunch stalled nuclear talks during an extraordinary last-minute meeting with Kim Jong Un.
Side-by-side with Kim in the heavily-fortified demilitarized zone, Trump became the first sitting U.S. president to cross the 1953 armistice line separating North and South Korea, then joined Kim for a roughly 50-minute meeting.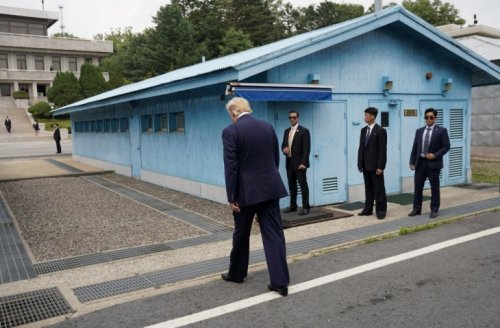 Commander In Chief walking bravely 'solo' while Kim still had his security around him......

This was an 'IMPRESSIVE' Move by Potus and signaled 'BRAVERY' and "TRUST" which Kim noted immediately!.... Potus spoke volumes in that walk solo that not only Kim understood but every N.Korean soldier understood!
No other American President had the courage to go behind enemy lines. Trump is a gift from God. Our POTUS has great big Cohones. Titanium ones.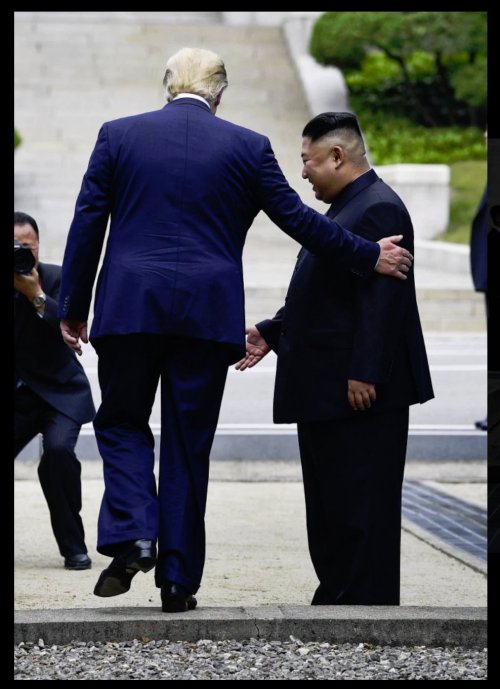 Posted by Wild Thing at June 30, 2019 12:37 PM
---
Trackback Pings
TrackBack URL for this entry:
http://www.theodoresworld.net/mt/mt-apples.cgi/18231
Comments
Post a comment