« President Trump Speaks at 91st Annual Future Farmers of America Convention | Main | Young Black Conservatives meet at the White House »
October 27, 2018
President Trump Rally in Murphysboro, Illinois
President Donald Trump Holds MAGA Rally in Murphysboro, IL
Trump holds a campaign style rally at Southern Illinois Airport Hangar 6 in Murphysboro, IL.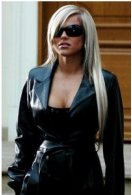 President Trump Speaks at 91st Annual Future Farmers of America Convention
Chrissie aka Wild Thing's comment........

For those of you who are not familiar with Illinois, Murphysboro is in the heart of what is known locally as "Little Egypt", which has the Mississippi river to the west and the Ohio river to the south. Accessible by Interstate from a couple different directions. the region was settled by people from Georgia back in the 1800's, and in many ways, is much more like Georgia than most of the rest of the Midwest.
This is where people still fly the confederate flag - in Illinois! There are lots of coal miners.
Posted by Wild Thing at October 27, 2018 06:48 PM
---
Trackback Pings
TrackBack URL for this entry:
http://www.theodoresworld.net/mt/mt-apples.cgi/17665
Comments
Post a comment