« These Two Wounded Warriors' Reactions to Trump Ending the Iran Deal Will Give You CHILLS | Main | 3:00 A.M. and President Trump is working for America »
May 10, 2018
Pres. Trump, First Lady Melania, VP Pence, Second Lady Karen meet three released prisoners from N.Korea

Pres. Trump, First Lady Melania, VP Pence, Second Lady Karen meet three released prisoners from N.Korea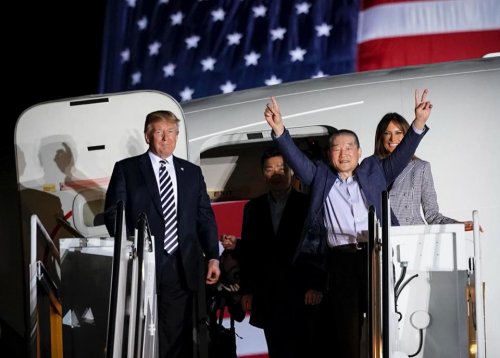 Trump and Melania give them heroes' welcome as they land back at U.S. Air Force base
Kim Jong-un released Kim Dong-chul, Kim Hak-song and Tony Kim – who were greeted as heroes in the U.S.
Trump and Melania personally met with them after their plane from Pyongyang arrived at 2:00 a.m.
President said: 'These are great people. Frankly, we didn't think this was going to happen, but it did'
Trump aims to sit down with North Korean dictator in late May or early June and thanked him personally.
Donald Trump welcomed three Americans imprisoned in North Korea back to the U.S. in the wee hours of Thursday morning, and said words most observers thought no American president would ever utter: 'We want to thank Kim Jong Un.'
The president and his wife Melania arrived at Joint Base Andrews outside Washington at 2:00 a.m. to greet Kim Dong Chul, Kim Hak Song and Tony Kim, and called them 'incredible people.'
In extraordinary scenes, Trump and the first lady clapped and cheered as the men walked down the steps with their arms in the air and giving triumphant 'V' signs signifying both peace and victory.
Their first steps back on American soil came hours earlier, in Alaska, when the plane carrying them home stopped to refuel.
On the tarmac in suburban Maryland, Trump said: 'These are great people. Frankly, we didn't think this was going to happen, but it did. It was important to get these people out. This is a special night for these three really great people.'
Trump also thanked Kim Jong-un for freeing 'the folks early.' calling it 'a wonderful thing' and adding he believes the North Korean despot 'really wants to do something' and bring the hermit kingdom 'into the real world.'
He said: 'We're starting off on a new footing. I really think we have a very good chance of doing something very meaningful, and if anybody would've said that five years ago, 10 years ago, even a year ago, you would've said, 'That's not possible.'
'My proudest achievement will be when we denuclearize that entire [Korean] peninsula,' he added.
The freed trio were joined by a translator who relayed their sentiment that being home felt 'like a dream' and that the men were 'very, very happy' to be freed. They later gave President Trump a round of applause.
Kim Dong-chul, speaking about his time in North Korea, said: 'We were treated in many different ways. For me, I had to do a lot of labor. But when I got sick, I was also treated by them.'
Posted by Wild Thing at May 10, 2018 11:50 AM
---
Trackback Pings
TrackBack URL for this entry:
http://www.theodoresworld.net/mt/mt-apples.cgi/17578
Comments
Post a comment