« America Voted for Donald Trump for President and Will Again! | Main | Beautiful and Gorgeous First Lady Melania Trump »
May 31, 2018
Kim Kardashian West Visits President Trump at White House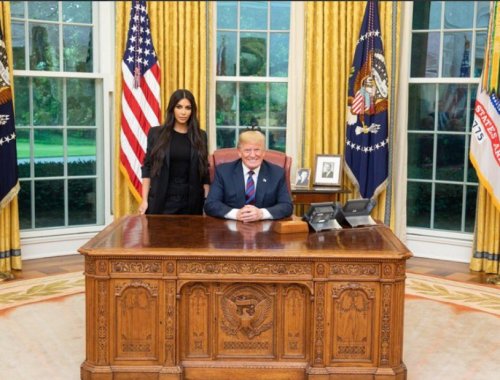 Kim Kardashian West Visits President Trump at White House about the case of Alice Marie Johnson.
Kim Kardashian talks about her meeting with President Trump, says "The President seems to have a passion" for prison reform..
Kim Kardashian West met with President Trump at the White House Wednesday about sentencing and prison reform, Mr. Trump confirmed in a tweet Wednesday night. The White House had offered few details about her visit.
"Great meeting with @KimKardashian today, talked about prison reform and sentencing," Mr. Trump tweeted.
Kim was advocating for a pardon for Alice Marie Johnson, a great-grandmother serving a life sentence for a nonviolent drug offense. Johnson has spent more than two decades in prison. Vanity Fair first reported the Kardashian sister would be visiting Washington and meeting with White House officials.
A member of Johnson's legal team told CBS News White House reporter Jacqueline Alemany the meeting between the president and Kardashian was very "positive," but the president did not make a decision during the meeting about whether or not he will move forward with a pardon.
Posted by Wild Thing at May 31, 2018 12:26 PM
---
Trackback Pings
TrackBack URL for this entry:
http://www.theodoresworld.net/mt/mt-apples.cgi/17599
Comments
Post a comment