« Benjamin Netanyahu‏ and President Trump in Israel | Main | President Trump Strengthening the Bond Between the United States and Israel »
May 22, 2017
Netanyahu's wife talking to Trumps: 'They love you' despite what media says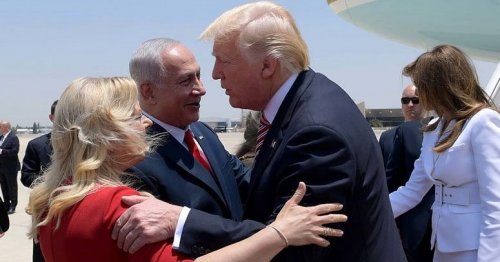 Netanyahu's wife talking to Trumps: 'They love you' despite what media says
During President Trump's visit to Israel, the wife of Israel's prime minister reportedly complained to first lady Melania Trump that the mass media hates them both, but that "the people love us."
Channel 2, a 33-year-old commercial TV station based in Jerusalem, reported the comments Monday after the president and first lady landed at Ben Gurion Airport in Tel Aviv.
Trump has referred to the American media as "fake news" and "the enemy of the American people."
For his part, Netanyahu has accused Israel's mass media of attempting to remove him from the government and publishing leaked quoted from confidential conversations.

While the president and first lady were being escorted to Air Force One following their visit, Trump reportedly told Prime Minister Netanyahu that Melania was a big fan of his wife.
Sara Netanyahu was said to have replied to President Trump, "I love her. I'm also her fan. I talk every place about her, how great you are."

Sara Netanyahu reportedly said to the Trumps, "You know, in Israel, all the people like us. The media hate us, but the people love us, like you."
Posted by Wild Thing at May 22, 2017 12:34 PM
---
Trackback Pings
TrackBack URL for this entry:
http://www.theodoresworld.net/mt/mt-apples.cgi/17526
Comments
Post a comment