« President Donald Trump Delivers His Weekly Address to The Nation 5/19/17 | Main | President Donald J. Trump Proclaims the Third Saturday of Each May as Armed Forces Day »
May 19, 2017
First Lady Melania Trump to address military families during foreign trip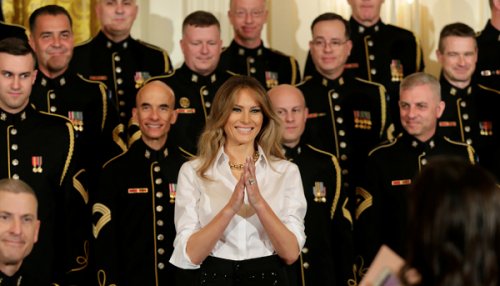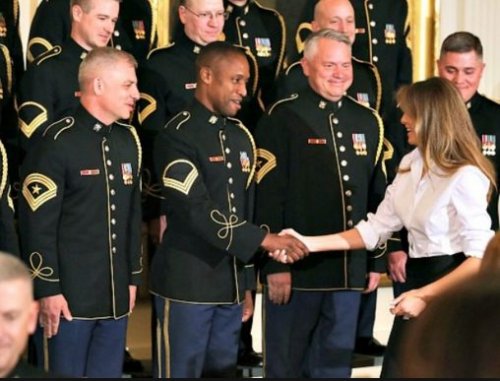 First Lady Melania Trump to address military families during foreign trip
First Lady Melania Trump will address U.S. military families in Italy during President Donald Trump's eight-day, four-country trip that began Friday.
"I am very excited for the upcoming trip. This will not just be an opportunity to support my husband as he works on important matters of national security and relations, it will also be my honor to visit and speak with women and children from different countries, with different perspectives," Melania Trump was quoted as saying in a statement from the Office of the First Lady.
The president and first lady, along with son-in-law Jared Kushner and daughter Ivanka Trump, will visit Saudi Arabia and Israel, then travel to Sicily, Vatican City and Italy before concluding the trip in Belgium.

The first family will return to the United States on May 27.
In addition to her speech to military families, Melania Trump also has several other speeches planned during the G7 summit in Taormina, Sicily and the NATO summit in Brussels, Belgium.
The first lady will join her husband at some events but her full schedule isn't being released due to security concerns.
She has said she will spend much of her time speaking with both women and children.
A native of Slovenia, which was part of Yugoslavia until 1991, Melania Trump speaks Slovene, Serbian, French, German and Italian in addition to English.

Melania Trump's address to military families will mark the conclusion of the first family's travels, before they return to the U.S. on Saturday, May 27, 2017.
Posted by Wild Thing at May 19, 2017 10:55 AM
---
Trackback Pings
TrackBack URL for this entry:
http://www.theodoresworld.net/mt/mt-apples.cgi/17525
Comments
Post a comment