« The fashion world is applauding Melania Trump style on the First Lady's inaugural international trip. (May 26) | Main | President Trump 6/16/17: Weekly Address to our Nation »
May 26, 2017
First Lady Melania at the coastal town of Catania, Sicily with Other G& Spouses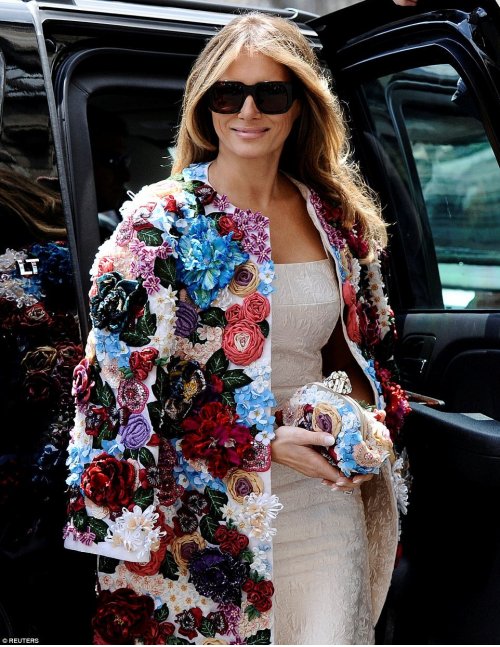 First Lady Melania at the coastal town of Catania, Sicily, on Friday morning
Melania Trump beams at the cameras as she steps out in sunny Sicily.Melania was pictured in the coastal town of Catania, where she and her fellow G7 spouses were enjoying a trip to the Chierici Palace, a historic site in the town.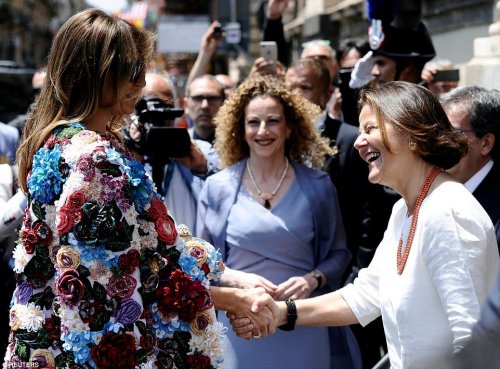 First Lady Melania was met by Emanuela Mauro, wife of Italian Prime Minister Paolo Gentiloni, as she arrived at Catania's Duomo Square, where she was set to visit a palace,,,, AND First Lady Melania happily waved while standing on the balcony of Chierici Palace, as part of a visit of the G7 first ladies in Catania, Italy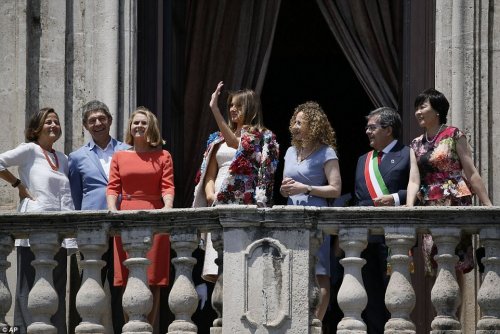 Sicily is the final stop on the Trumps' first foreign overseas tour. On Friday and Saturday, the President will meet with other G7 leaders at a summit in Taormina; the couple will also attend a G7 concert by La Scala Philharmonic Orchestra on Friday evening, and will join the other leaders and their partners for dinner. Sicily is the final stop of the couple's first overseas tour as President and First Lady of the United States
Posted by Wild Thing at May 26, 2017 01:05 PM
---
Trackback Pings
TrackBack URL for this entry:
http://www.theodoresworld.net/mt/mt-apples.cgi/17528
Comments
It's nice to have someone with style and grace who represents the country. The last few years I felt like we were sending the "crazy cat lady" down the street.
Posted by: MrHappy at June 11, 2017 09:56 AM
---
You ok.
Have not seen an update for a while.
Just concerned about what is happening with you.
Posted by: Heltau at June 16, 2017 01:28 AM
---
Post a comment