« President Trump and VP Pence greet "Take Kids To Work Day" visitors | Main | Awesome Sec. of State Rex Tillerson Speaks at the UN! »
April 27, 2017
Thank you President Trump and VP Pence....100 Days of American Greatness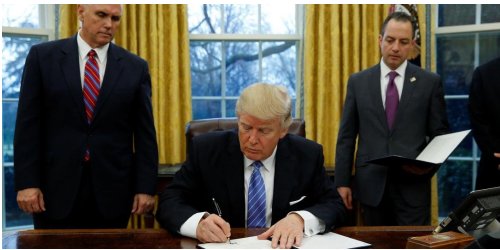 100 Days of American Greatness
Source.... GOP Blog
Since January 20, President Trump has been working nonstop to revive America's economy, fight for American workers, and protect our nation -- despite extreme opposition from the mainstream media to a degree no president has ever witnessed.
Jobs, Jobs, Jobs
Optimism in America's economy is soaring thanks to President Trump's commitment to strengthening American industry, promoting business and innovation, and bringing jobs back to our country.

Delivering on his promise to put American workers first, President Trump immediately withdrew the United States from Obama's job-killing Trans-Pacific Partnership that would have resulted in a second NAFTA. He has also slashed red tape in Washington, signing an executive order that mandates two regulations must be eliminated for every one introduced.

President Trump ordered the construction of the Keystone XL and Dakota Access Pipelines, sparking a revolution of American energy and an end to our dependence on Middle East oil.
Because of President Trump's pro-growth policies that make it easier to do business in America, companies such as Ford, Exxon Mobil, and Charter Communications have agreed to make new investments in our own country rather than overseas. Our President's leadership has resulted in hundreds of thousands of new jobs for American workers and has earned the most positive assessment of America's economy since 2007.
Securing Our Border
Following through on one of the most critical issues of his campaign, President Trump has cracked down on sanctuary cities that break the law by harboring illegal immigrants, began deporting the more than two million criminal illegal immigrants living in our country, implemented guidelines to end the practice of catch-and-release, and signed an executive order to begin building the border wall between the United States and Mexico. Illegal Immigration at the U.S.-Mexico Border is at its lowest in 17 years.
Committed to Conservative Principles
President Trump nominated a highly respected, eminently qualified executive cabinet, lauded as the most conservative in history. Conservatives such as Jeff Sessions, Ben Carson, and James Mattis are working with President Trump to lead our nation with strong principles and a clear vision.
Following the selection of an exceptional cabinet, President Trump announced his nominee for Justice Scalia's vacant Supreme Court seat: Judge Neil Gorsuch. A preeminently qualified man of irreproachable character and a strict constitutionalist, Judge Neil Gorsuch was swiftly confirmed as the Supreme Court's 113th Justice, fulfilling one of President Trump's most critical campaign promises.

Making America Safe Again
President Trump has strengthened America's standing in the world by concentrating on strategic diplomacy and ensuring that our foreign policy reflects his mottos of "America First" and "peace through strength." He has met with foreign leaders including Prime Minister Benjamin Netanyahu of Israel, Prime Minister Paolo Gentiloni of Italy, and President Xi of China, reaffirming America's position as leader of the liberated world and unifier of free, democratic people. His bombing campaign against key ISIS transit channels in Afghanistan took a decisive step forward in the fight against ISIS, Al-Qaeda, and other radical Islamist insurgent groups that threaten freedom in the Western world.

President Trump has also stood up for our heroic veterans who put their lives on the line for the sake of our country. He signed a bill extending the Veterans Access, Choice and Accountability Act to give veterans the choice to seek medical attention outside of the VA medical system and additionally added much-needed transparency and accountability to the bureaucracy.

During his first 100 days in office, President Trump has exhibited a clear vision, resolute leadership, and an uncompromising dedication to the American people just as he promised throughout his campaign. His commitment to the needs of America's veterans, his work to promote women entrepreneurs, and his championship of the American workers have proven him the right leader to put "America First" and get the job done.
Posted by Wild Thing at April 27, 2017 06:50 PM
---
Trackback Pings
TrackBack URL for this entry:
http://www.theodoresworld.net/mt/mt-apples.cgi/17472
Comments
Post a comment