« Obama Admin Source Confirms Wiretapping | Main | Mark Levin on Trump Wiretapping Claims: 'The Evidence Is Overwhelming' »
March 05, 2017
'The Obama Camp's Disingenuous Denials on FISA Surveillance of Trump'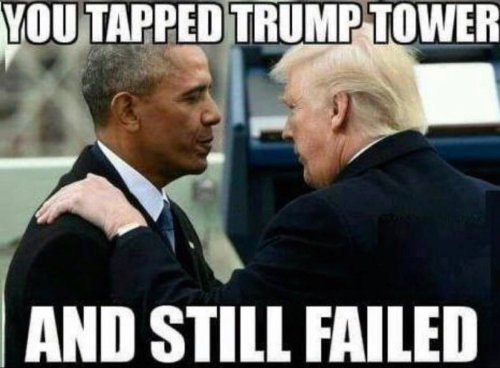 'The Obama Camp's Disingenuous Denials on FISA Surveillance of Trump'
by Andrew C. McCarthy
March 5, 2017

President Trump's early Saturday morning tweeting has exploded to the forefront an uncovered scandal I've been talking about since early January (including in this weekend's column): The fact that the Obama Justice Department and the FBI investigated associates of Donald Trump, and likely Trump himself, in the heat of the presidential campaign.
.
To summarize, reporting indicates that, prior to June 2016, the Obama Justice Department and FBI considered a criminal investigation of Trump associates, and perhaps Trump himself, based on concerns about connections to Russian financial institutions. Preliminary poking around indicated that there was nothing criminal involved. Rather than shut the case down, though, the Obama Justice Department converted it into a national-security investigation under the Foreign Intelligence Surveillance Act (FISA). FISA allows the government, if it gets court permission, to conduct electronic surveillance (which could include wiretapping, monitoring of e-mail, and the like) against those it alleges are "agents of a foreign power." FISA applications and the evidence garnered from them are classified – i.e., we would not know about any of this unless someone had leaked classified information to the media, a felony.
In June, the Obama Justice Department submitted an application that apparently "named" Trump in addition to some of his associates. As I have stressed, it is unclear whether "named" in this context indicates that Trump himself was cited as a person the Justice Department was alleging was a Russian agent whom it wanted to surveil. It could instead mean that Trump's name was merely mentioned in an application that sought to conduct surveillance on other alleged Russian agents. President Trump's tweets on Saturday claimed that "President Obama . . . tapp[ed] my phones[,]" which makes it more likely that Trump was targeted for surveillance, rather than merely mentioned in the application.

In any event, the FISA court reportedly turned down the Obama Justice Department's request, which is notable: The FISA court is notoriously solicitous of government requests to conduct national-security surveillance (although, as I've noted over the years, the claim by many that it is a rubber-stamp is overblown).

Not taking no for an answer, the Obama Justice Department evidently returned to the FISA court in October 2016, the critical final weeks of the presidential campaign. This time, the Justice Department submitted a narrowly tailored application that did not mention Trump. The court apparently granted it, authorizing surveillance of some Trump associates. It is unknown whether that surveillance is still underway, but the New York Times has identified – again, based on illegal leaks of classified information – at least three of its targets: Paul Manafort (the former Trump campaign chairman who was ousted in August), and two others whose connection to the Trump campaign was loose at best, Manafort's former political-consulting business partner Roger Stone, and investor Carter Page. The Times report (from mid-January) includes a lot of heavy breathing about potential ties between the Trump campaign and Russia; but it ultimately concedes that the government's FISA investigation may have nothing to do with Trump, the campaign, or alleged Russian efforts to interfere in the U.S. election by hacking e-mail accounts.
Trump's tweets on Saturday prompted some interesting "denials" from the Obama camp. These can be summarized in the statement put out by Obama spokesman Kevin Lewis:
A cardinal rule of the Obama Administration was that no White House official ever interfered with any independent investigation led by the Department of Justice. As part of that practice, neither President Obama nor any White House official ever ordered surveillance on any U.S. citizen. Any suggestion otherwise is simply false.

This seems disingenuous on several levels.

First, as Obama officials well know, under the FISA process, it is technically the FISA court that "orders" surveillance. And by statute, it is the Justice Department, not the White House, that represents the government in proceedings before the FISA court. So, the issue is not whether Obama or some member of his White House staff "ordered" surveillance of Trump and his associates. The issues are (a) whether the Obama Justice Department sought such surveillance authorization from the FISA court, and (b) whether, if the Justice Department did that, the White House was aware of or complicit in the decision to do so. Personally, given the explosive and controversial nature of the surveillance request we are talking about – an application to wiretap the presidential candidate of the opposition party, and some of his associates, during the heat of the presidential campaign, based on the allegation that the candidate and his associates were acting as Russian agents – it seems to me that there is less than zero chance that could have happened without consultation between the Justice Department and the White House.

Second, the business about never ordering surveillance against American citizens is nonsense. Obama had American citizens killed in drone operations. Obviously, that was not done in the U.S. or through the FISA process; it was done overseas, under the president's commander-in-chief and statutory authority during wartime. But the notion that Obama would never have an American subject to surveillance is absurd.

Third, that brings us to a related point: FISA national-security investigations are not like criminal investigations. They are more like covert intelligence operations – which presidents personally sign off on. The intention is not to build a criminal case; it is to gather information about what foreign powers are up, particularly on U.S. soil. One of the points in FISA proceedings' being classified is that they remain secret – the idea is not to prejudice an American citizen with publication of the fact that he has been subjected to surveillance even though he is not alleged to have engaged in criminal wrongdoing.

Consequently, there is nothing wrong, in principle, with a president's ordering national-security surveillance of a potential foreign agent who may be helping a foreign power threaten American security and interests. That is one of the president's main jobs – there would be something wrong if a president, who truly believed the nation was threatened by a foreign power, failed to take action. Prior to FISA's enactment in 1978, courts had no formal role in the surveillance of foreign agents for national-security purposes – it was a unilateral executive-branch function. Beginning with the Carter administration during FISA's enactment, it has been the position of presidential administrations of both parties that, despite the enactment of the FISA process, the president maintains inherent authority under Article II of the Constitution to order surveillance even in the absence of court authorization.

Of course, doing so is controversial, as President Bush learned after he directed the NSA to conduct warrantless wiretapping of suspected terrorists following the 9/11 attacks. Nevertheless, we should not allow the statements of Obama spokesmen to confuse us here. The Justice Department and FBI have two missions: (a) criminal law-enforcement and (b) national security. It would be scandalous (though probably not constitutional unconstitutional) for a president to interfere in the law-enforcement mission by ordering the Justice Department to prosecute someone outside its normal procedures. But it would not be inappropriate e–ven though civil libertarians would raise holy hell — for the president to direct warrantless surveillance against a target, even an American citizen, if the president truly believed that target was functioning as an agent of a foreign power threatening U.S. interests.
To be clear, there does not seem to be any evidence, at least that I know of, to suggest that any surveillance or requests to conduct surveillance against then-candidate Donald Trump was done outside the FISA process.
Nevertheless, whether done inside or outside the FISA process, it would be a scandal of Watergate dimension if a presidential administration sought to conduct, or did conduct, national-security surveillance against the presidential candidate of the opposition party. Unless there was some powerful evidence that the candidate was actually acting as an agent of a foreign power, such activity would amount to a pretextual use of national-security power for political purposes. That is the kind of abuse that led to Richard Nixon's resignation in lieu of impeachment.
Moreover, it cannot be glossed over that, at the very time it appears the Obama Justice Department was seeking to surveil Trump and/or his associates on the pretext that they were Russian agents, the Obama Justice Department was also actively undermining and ultimately closing without charges the criminal investigation of Hillary Clinton despite significant evidence of felony misconduct that threatened national security.
This appears to be extraordinary, politically motivated abuse of presidential power.
Posted by Wild Thing at March 5, 2017 09:38 AM
---