« Meet Gracie, the newest staff member at Greenlawn Funeral Home North | Main | Love this. Donald Trump Jr's Reaction To Hate Monger Rachel Maddow News Of Pres. Trump Tax Reutrns »
March 15, 2017
Samsung Will Shift Manufacturing from Mexico to U.S., Invest $300 Million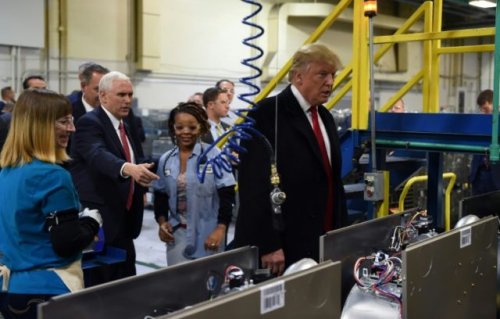 Samsung Will Shift Manufacturing from Mexico to U.S., Invest $300 Million

Samsung announced an investment in expanding production in the United States this week, according to The Wall Street Journal.
According to sources close to the company, the initial capital investment will total close to $300 million and will involve shifting some production from Mexico to the United States. The sources claim that the move could generate around 500 jobs.
Samsung, which is based in Seoul, South Korea, may increase manufacturing of home appliances such as refrigerators, washer, and dryers in the United States. According to The Wall Street Journal, the decision to move production to the United States was influenced by President Trump after he campaigned to move manufacturing jobs for products bought in the United States from overseas into this country.
The tech giant has engaged in initial discussions with several states, including Alabama, Georgia, North Carolina, Ohio and South Carolina. According to the sources, South Carolina is likely one of the strongest contenders for a Samsung manufacturing plant, which could specifically be located in Blythewood, S.C.
Samsung Vice Chairman Lee Jae-yong attended a meeting in December at Trump Tower with the then president-elect. Since that time, several large firms based in Asia have agreed to expand operations or invested into the United States.
Posted by Wild Thing at March 15, 2017 10:55 AM
---
Comments
For decades we've watched manufacturing leave the US and head to Mexico, China, and other countries. Unions paid Democrats tens of millions of dollars for the past 70 years only to be told there's nothing that can be done to prevent their manufacturing jobs from leaving the US.
Now, for the first time ever, we're seeing manufacturing coming back to the US. We finally have a president who is actually doing something to not only prevent jobs from leaving but is actively bringing them back.
Democrats are crapping their pants over this. If Trump succeeds in bringing good high paying Union jobs back to America, the Unions will abandon the Democrats and along with them their minority base will too as they get good jobs and realize who made it possible.
Posted by: BobF at March 16, 2017 09:16 AM
---