« President Trump Holds First Cabinet Meeting, Eyeing Storm | Main | President Trump Signs Order To Reduce The Size Of the Federal Bureaucracy »
March 14, 2017
President Trumps White House Seeks to Cut Billions in Funding for United Nations


White House Seeks to Cut Billions in Funding for United Nations

tate Department staffers have been instructed to seek cuts in excess of 50 percent in U.S. funding for U.N. programs, signaling an unprecedented retreat by President Donald Trump's administration from international operations that keep the peace, provide vaccines for children, monitor rogue nuclear weapons programs, and promote peace talks from Syria to Yemen, according to three sources.
The push for such draconian measures comes as the White House is scheduled on Thursday to release its 2018 budget proposal, which is expected to include cuts of up to 37 percent for spending on the State Department, the U.S. Agency for International Development (USAID), and other foreign assistance programs, including the U.N., in next year's budget. The United States spends about $10 billion a year on the United Nations.
It remains unclear whether the full extent of the steeper U.N. cuts will be reflected in the 2018 budget, which will be prepared by the White House Office of Management and Budget, or whether, as Secretary of State Rex Tillerson has proposed, the cuts would be phased in over the coming three years. One official close to the Trump administration said Tillerson has been given flexibility to decide how the cuts would be distributed.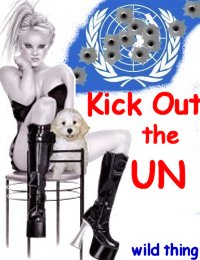 Wild Thing's comment............
Good in fact I wish we could get rid of the UN on our soil.
Posted by Wild Thing at March 14, 2017 10:50 AM
---