« President Trump's Weekly Address today at 11:00am EST | Main | Ivanka & her daughter Arabella Join Pres.Trump, Gov. Scott and others at Orlando School »
March 03, 2017
President Trump and Marine One
Trump considers it an honor to exchange salutes with the military personnel. Unlike vile Obama who barely lifted his arm.
The children running up those steps reminds me of the Kennedy's. Love the respect shown in this image too, thank you President Trump!

Just like Grandpa Donald's helicopter! Ivanka Trump's son Joseph plays with a toy replica of Marine One as he boards the real deal to head to Florida for the weekend
Three-year-old Joseph Kushner brought along a toy version of Marine One as he flew the real deal to Joint Base Andrews on Friday
The President and his family flew to Orlando in the afternoon to visit a school in Orlando
They plan to spend the rest of the weekend at Mar-a-Lago in Palm Beach
Any kid can own a Marine One replica toy, but little Joseph Kushner is one of the few lucky tots to get a chance to ride on the real thing.
Ivanka Trump's three-year-old son brought along his toy version of the presidential helicopter on Friday, as the the Kushners boarded Marine One on the White House lawn.
The toddler held onto the toy in his left hand while Grandpa Donald held onto his right hand, leading him and sister Arabella into the aircraft, his daughter and her husband following.
The family then took a quick flight over to Joint Base Andrews in Maryland, where Air Force One was waiting to take them to Florida.


Three-year-old Joseph Kushner clutched a mini Marine One model toy as he boarded the real thing on Friday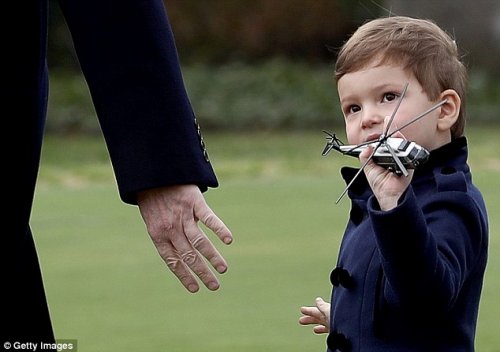 President Trump led Joseph and sister Arabella out to Marine One on the White House lawn
President Trump then helped the tots aboard the presidential helicopter

First, the Trumps flew to Orlando, where the president visited St. Andrew Catholic School.
Trump visited the school in order to push his education agenda, which focuses on school choice.
He is spending the rest of the weekend with his family in Palm Beach, at the 'winter White House' Mar-a-Lago
He started his tour of St. Andrew 's with a visit to a fourth-grade classroom, where he shook hands with students and talked about their history lesson.
He then joked to one girl who said she wanted to own her own business that she's 'gonna make a lot of money. But don't run for politics.'
Trump was joined on the tour by Education Secretary Betsy DeVos, Florida Senator Marco Rubio and Florida Gov. Rick Scott.
Teachers' unions were quick to criticize the visit, saying it shows Trump's hostility toward public schools and his intention to turn education into a profit-making industry.
After the school visit, Trump and his family got back on Air Force One and jetted down to Palm Beach.
The Kushners joined the president for a flight down to Florida, where he visited a private school in Orlando
The family later got back on Air Force One to jaunt down to Palm Beach, where they are spending the rest of the weekend. This time their youngest son Theo was seen in mom Ivanka's arms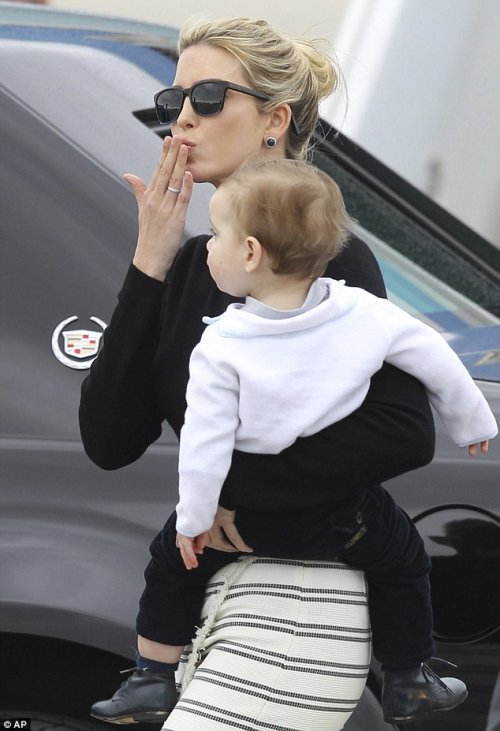 Posted by Wild Thing at March 3, 2017 04:55 PM
---
Comments
I think Trump actually looks forward to saluting his Marine Guards and others in the military.
Posted by: BobF at March 4, 2017 07:10 AM
---