« President Donald Trump introduces Enda Kenny, the Taoiseach of Ireland, to Wilbur Ross, U.S. Secretary of Commerce | Main | Friday evening, the supporters waved signs and MAGA flags and cheer for President Trump between Mar-a-Lago and West Palm Beach »
March 17, 2017
Pres. Trump, First Lady Melania and son Barron boarding Air Force One for flight to West Palm Beach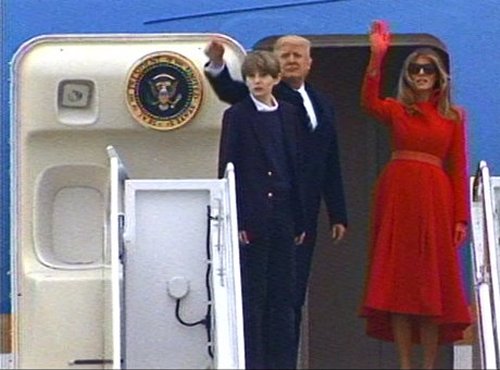 Pres. Trump, First Lady Melania and son Barron boarding Air Force One for flight to West Palm Beach
President Donald Trump has left Washington, D.C. for the warmer weather of Palm Beach. He travels to Palm Beach after meeting with German Chancellor Angela Merkel at the White House.
The president departed Andrews Air Force Base aboard Air Force One at about 4:50 p.m. He's slated to arrive at Palm Beach International Airport sometime after flight restrictions go into effect for the area at 6 p.m.
Joining the president: First Lady Melania Trump and the couple's son, Barron.
Posted by Wild Thing at March 17, 2017 04:55 PM
---