« Pres. Trump, First Lady Melania and son Barron boarding Air Force One for flight to West Palm Beach | Main | President Donald J. Trump Weekly Address 3/18/2017 »
March 17, 2017
Friday evening, the supporters waved signs and MAGA flags and cheer for President Trump between Mar-a-Lago and West Palm Beach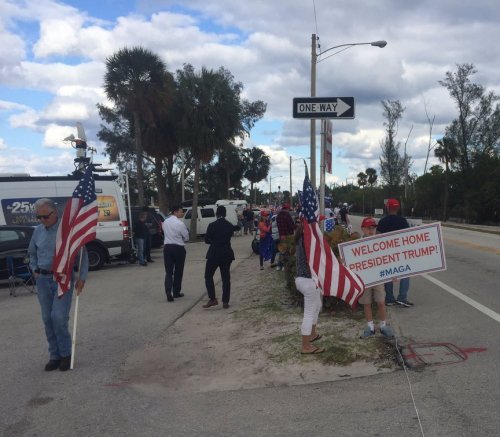 Supporters of President Donald Trump have gathered near Mar-a-Lago to await the president's arrival this evening.
The group of about two dozen people are on Bingham Island, the small piece of land between Mar-a-Lago and West Palm Beach along Southern Boulevard.

Friday evening, the supporters waved signs and MAGA flags at passersby. Maurice "Michael" Symonette, of Miami, traveled to Palm Beach with a group called "Blacks For Trump." Donning a faded "BlacksForTrump2020.com" shirt, Symonette said he hoped Trump's motorcade stopped again like it did briefly during his visit earlier this month.
"I think everything he's doing is wonderful," Symonette said.
Twelve-year-old Jackson Crosby waved to passing cars while carrying a large sign that said "Welcome Home President Trump." He said his grandmother made them for the whole family.
Gisela Crosby said they drove from Juno Beach on Friday. "I just think it's great that we get our children involved in helping make America great again," Crosby said.
Posted by Wild Thing at March 17, 2017 06:06 PM
---