« President Donald J. Trump toured the USS Gerald R. Ford - CVN 78 | Main | VP Mike Pence Visiting Blain's Farmand Fleet in Wisconsin »
March 03, 2017
Eric Trump Donates $20 Million To St. Jude Children's Hospital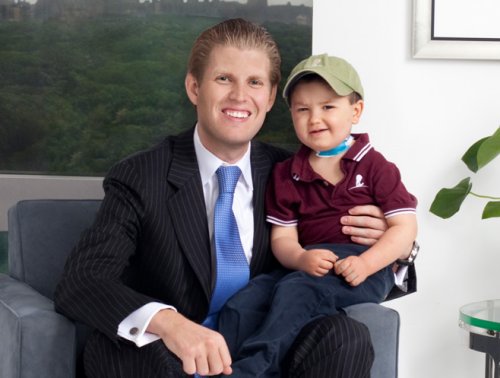 Eric Trump Donates $20 Million To St. Jude Children's Hospital

Eric Trump, President-Elect Donald Trump's son, and his wife Laura confirmed they donated an astounding $20 million dollars to help sick children.
They gave the money to St. Jude Children's Hospital. An organization devoted to helping children with rare or incurable diseases.
Eric Trump described St Jude's as a "national treasure."
In this video Eric is stunned and visibly moved when he recounts his first visit to the hospital and saw all the wonderful work that was being done.
He decided he had to be involved with such a worthy cause, but even St Jude was shocked at the amount he gave to help their incredible mission.
Eric said he was proud to be a part of such an important organization. While he acknowledged how blessed he was to have healthy children he understands the importance of charity, to help others less fortunate, and in this case he wants to help find a solution for pediatric cancer. The disease that takes so many young children before their time.
Posted by Wild Thing at March 3, 2017 03:36 PM
---
Comments
Has ANYONE heard of any libturd donating any amount of money to ST. Jude's over the last 50 years?
I sure have not.
Posted by: Heltau at March 5, 2017 12:40 AM
---