« President Trump Gives FOX & FRIENDS Tour of White House and a Special Visit with First Lady Melania | Main | RUSH: Trump's HEARTFELT Thanks To SEAL Widow Carryn Owens Hit Dems 'Like A Slap Upside The Head' »
February 28, 2017
Wollman Skating Rink in Central Park New York City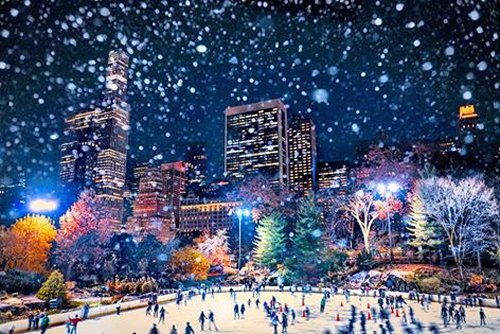 .
Wollman Skating Rink in Central Park New York City

Donald Trump And The Wollman Rinking of American Politics
We best understand the world through compelling narratives. Here's one that helps us process the phenomenon known as Trump for President:
"Once upon a time there was an ice skating rink in Central Park that could no longer make ice. No one could figure out how to fix the skating rink. Years went by and millions of dollars were spent and still no ice. One day a white knight wearing a bright red tie showed up and said: ' Let there be ice!' Four months later there was ice. When asked by the press why the people had been unable to fix the rink themselves the knight said 'they're very nice people and I like them very much but they're all idiots!' And everyone lived happily ever after."
Pretty much the true story of the Wollman Skating Rink fiasco. You can even check the New York Times. On May 31, 1986 Donald Trump said in an interview with the Times, "I don't want my name attached to losers. So far the Wollman Rink has been one of the great losers. I'll make it a winner.'' Shortly after Trump decided to slap his name on Wollman Rink, if you read the fine print. Now, 30 years later, Wollman Rink is a winner and the Trump name is still associated with it. Just check the Wollman Skating Rink website. There it is! The famous, or, according to some, infamous TRUMP red logo.
The Wollman Rink incident underrscores the fascinating impact that Donald Trump is making on the political landscape and the American psyche irrespective of the outcome of the presidential campaign. Wollman Skating Rink today is one of the most iconic amenities for New Yorkers and tourists located in Central Park just a stone's throw north of the Plaza Hotel (which was once owned by Donald Trump).
Posted by Wild Thing at February 28, 2017 11:58 PM
---