« Prime Minister Benjamin Netanyahu and President Donald Trump | Main | Awesome Dr. Sebastian Gorka responds to attacks on his credibility »
February 16, 2017
Prime Minister Benjamin Netanyahu & Mrs Sara Netanyahu welcomed at the White House by President Donald Trump & First Lady Melania Trump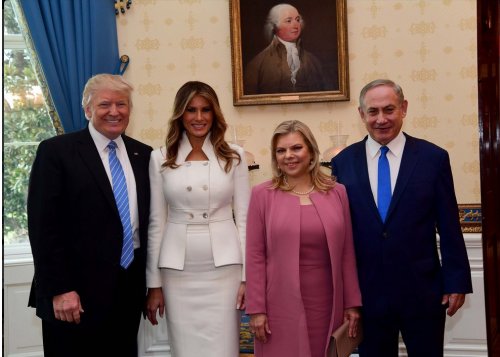 Prime Minister Benjamin Netanyahu & Mrs Sara Netanyahu welcomed at the White House by President Donald Trump & First Lady Melania Trump
President Trump on Israel: "You're Going to See a lot of Love, a Lot of Love"
The American president said things are going to a lot different with this White House compared to the last administration. Obama was arguably the most anti-Israel president in US history who trusted the Iran regime more than the Netanyahu government.
President Trump pointed out Jewish son-in-law Jared Kushner and daughter Ivanka who are Jewish and promised a new tone with Israel.

Bibi Netanyahu..."I believe that under your leadership this change in our region creates an unprecedented opportunity to strengthen security and advance peace"
PM Netanyahu: Israel has no better ally than the United States, and I want to assure you, the United States has no better ally than Israel.
Posted by Wild Thing at February 16, 2017 11:41 AM
---