« Hillary barks like a dog During Her Campaign Speech | Main | Hillary Clinton on CBS Evening News: "I've Always Tried To" Tell the Truth to the American People ~ LOL »
February 18, 2016
Veterans Leader Sean Parnell: Marco Has the Best Record on VA Issues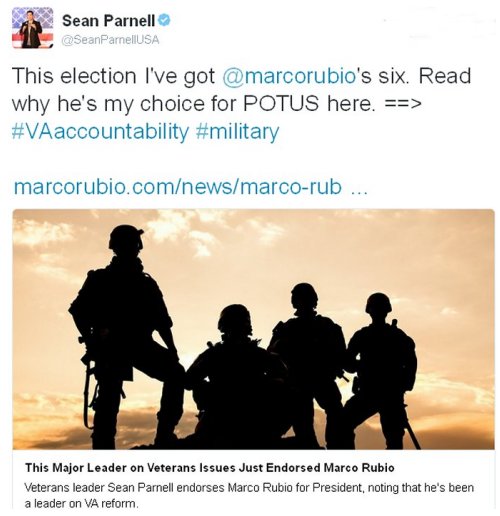 Veterans Leader Sean Parnell: Marco Has the Best Record on VA Issues
Sean Parnell is a highly decorated combat veteran of the war in Afghanistan and is the New York Times bestselling author of Outlaw Platoon. He is also the co-founder of the American Warrior Initiative.
Here's what he has to say about Marco's leadership on veterans' issues:
As a retired Army veteran wounded in Afghanistan, I have seen countless examples of true leadership and commitment to those who have served our nation in uniform. Sadly, these qualities have been sorely missing over the past seven years at both the commander-in-chief level and at the Department of Veterans Affairs (VA). This year's presidential election is a chance to put these issues front and center and elect a president who can actually reverse course, rebuild our military, and honor our veterans with real, fundamental reforms at the VA.
There are many solid candidates running for the GOP nomination, all of which say good things about fixing the VA. All would be better than Barack Obama, Hillary Clinton, and Bernie Sanders—each an apologist for a failed VA bureaucracy. I firmly believe America's veterans deserve a president who isn't just outraged with the VA's ongoing problems and scandals, but also has a proven record of doing something about it.
That is why, as a long-time advocate for veterans and VA reform, I feel a responsibility to set the record straight about the candidate who has truly made veterans issues a priority, doggedly fought for VA accountability, and ultimately gotten results for veterans. I can attest to the fact that Senator Marco Rubio is that kind of leader — because I have seen it firsthand.
Before the VA's recent scandals even became public and rocked our nation, Senator Rubio teamed up with House Veterans Affairs Committee Chairman Jeff Miller to introduce the VA Management Accountability Act of 2014, which would give the VA secretary the authority to fire VA managers who were failing at their jobs. To Senator Rubio, it didn't take a scandal for him to spring into action and lead on this accountability issue; he had already seen the cases of terrible treatment come through his Senate office—and resolved to take action. To Senator Rubio, this was also personal, as he saw his older brother, a former Green Beret, embroiled in a years-long dispute with the VA over dental care for an injury sustained while serving.
One would think that Senator Rubio's proposal for firing the people responsible for the VA scandals would find unanimous support in Congress, but it didn't. Entrenched public sector unions opposed the bill, as did their congressional allies, including then-Senate VA committee chairman Bernie Sanders who blocked it. Undeterred, Rubio worked at it, showing his passion for veterans but also the leadership skills to get things done for us. As he worked to advance the bill, there were no headlines to be had and it was an uphill battle — yet Senator Rubio and his staff persisted.
He went out and rallied public support for it. He quietly reached across the aisle and convinced Democrats and Republicans alike to co-sponsor the bill on its merits, resulting in a majority of senators backing it. Although then-Senate Majority Leader Harry Reid refused to hold a vote on it, Rubio would not accept defeat. Every day seemed to expose a new failing of the VA under President Obama and, when the House and Senate passed different bills to fundamentally reform the VA, Rubio was asked to join the conference committee that negotiated a final bill – even though he does not even serve on the veterans committee that usually works on these issues.
Ultimately, Rubio succeeded in getting new VA accountability measures passed into law as part of a larger VA reform bill. But when it comes to helping our veterans, he's not done. He has aggressively stayed on top of the administration to fully implement this law and fire all VA managers who are responsible for failing our veterans. He is again working with Jeff Miller on a new bill, the VA Accountability Act of 2015, which would expand the VA secretary's firing authority to any VA employee that fails our veterans — a commonsense measure that the VA unions again oppose, that Senate Democrats are determined to block and that President Obama has already threatened to veto.
In addition to prioritizing and fully implementing these accountability measures at the VA, Rubio's record and agenda offer additional proof that he'd be a president that takes care of our veterans and makes sure they have opportunities to achieve the American Dream after their service to our country is complete. Among many issues he has championed, Senator Rubio supports fundamentally reforming our VA health system and giving veterans real health care choices when the VA fails to take care of them. He knows it's not just about accountability, but also giving veterans choices to access VA care or care from private providers. Senator Rubio and his office are always looking for the best ideas to help veterans, and always ahead of the curve on real policy reform.
South Carolina voters and veterans will soon go to the polls to choose a president and commander-in-chief. There are lots of strong options. But if fixing the VA, rebuilding our military, and doing right by our veterans is a top priority for you, then Senator Rubio should be your first and only choice. I can attest that he is fully committed — and capable — of putting an end to the bureaucratic nightmares that have plagued the VA and our veterans altogether. We deserve nothing less.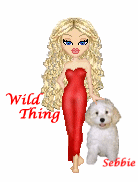 Wild Thing's comment............
Fantastic, this is wonderful. CNN had a town hall last night and Marco was so good. They had Ben Carson, Rubio and Cruz each one on separately which was nice. Then tomorrow night will be the rest of the candidates.
Posted by Wild Thing at February 18, 2016 12:45 AM
---