« GOP: Obama circumventing Senate in Paris climate deal talks | Main | Congress Moving To Name The Muslim Brotherhood A Terrorist Group »
November 03, 2015
Obama EPA Chief Vows To Lead The Global Fight Against Air Conditioners
Obama EPA Chief Vows To Lead The Global Fight Against Air Conditioners

EPA Chief Gina McCarthy wants the world to stop using hydrofluorocarbons (HFCs) in air conditioners and other consumers products as part of President Barack Obama's plan to fight global warming.
McCarthy is so determined to make this happen, she's taking the lead role at an ongoing United Nations summit to expand the current global treaty covering ozone-depleting substances. The EPA chief hopes that her agency's recent HFC regulations will convince other countries to join the U.S. in limiting the chemicals.
"Because of the importance of taking aggressive action on these chemicals to achieve global climate goals, I will be leading the United States delegation at that meeting," McCarthy wrote in an oped for The Guardian.
"Over the past year, the US Environmental Protection Agency has completed four separate actions that both expand the list of safer alternatives to HFCs and prohibit them from certain uses in the refrigeration air conditioning, foam, and aerosol sectors where safer alternatives such as hydrofluoroolefins (HFOs), hydrocarbons and lower-polluting blends are available," McCarthy wrote.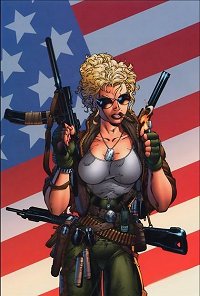 Wild Thing's comment............

Really? REALLY?????????
Lead by example Gina McCarthy! IMMEDIATELY strip ALL federal vehicles, aircraft, buildings and offices of their air conditioners - including Air Force 1, the White House and the capitol building and SCOTUS! Put your money where your mouth is. See how long this crap lasts from these control freaks.
I live in Florida and would not survive without air conditioning.
Posted by Wild Thing at November 3, 2015 12:55 AM
---
Comments
Maybe then instead of shooting off her mouth, she will put her numerous degrees in engineering and chemistry to work and develop an air conditioner that doesn't need HFC's to operate. No...wait...all she can do is shoot off her mouth as she doesn't have a stinking clue.
Posted by: BobF at November 3, 2015 09:21 AM
---