« Iran Threatens Suicide Bombings Against U.S. Warships | Main | Susan Rice Blames Climate Change For Conflict in Syria »
October 13, 2015
Twin Daughters Of Air Force Vet Barred From Wearing Jackets With Logo To School
Twin Daughters Of Air Force Vet Barred From Wearing Jackets With Logo To School
From the flag outside their Providence Village home to the photos inside, the Rolens are a proud military family.
Eleven-year-old twins Kaidence and Abigail were even born on an Air Force base.
So the new fall jackets they bought to wear to Aubrey Middle School shouldn't be a surprise.
"The Air Force ones they picked out — we might've nudged them a little bit," says Phil Rolen, their father.
But the girls didn't expect the reaction they got from teachers once they stepped into their classrooms.
"She yelled at me and said that's out of the dress code and that she would get me in trouble if I wore something out of dress code," says Kaidence.
"It's political correctness run amok," says their father.
He is a disabled Iraq War veteran who immediately called the principal and was told the Air Force logo was fine, just too large for the district's strict dress code.

"The district has a blanket policy doesn't allow administrators to make commonsense exceptions to rules that I think most Texans would agree are absolutely superfluous," says Rolen.
The school district told CBS 11 News in a statement that "Aubrey ISD has a student dress code to follow, just as our military personnel are expected to wear uniforms."
The Rolens say the dress code policy needs to change, not their daughters attire.
"We've certainly fought bigger fights in life," says Rolen.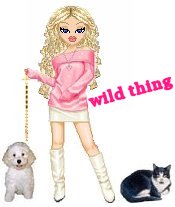 Wild Thing's comment.............
I think it's a very attractive logo. I bet if it wasn't associated with the military there would be no problem.
Posted by Wild Thing at October 13, 2015 12:55 AM
---