« Jeb Bush Lashes Out: 'I've Got a Lot of Really Cool Things I Could Do' Instead of Campaigning | Main | Donald Trump on God and Forgiveness »
October 25, 2015
K9 'Major Mike' Killed By Bicyclist To Receive War Hero Burial

K9 'Major Mike' Killed By Bicyclist To Receive War Hero Burial
He often said they would die together. That if one went, the other would go soon after, that he would not make it without Mike.
They had been to war and back twice. They were a team in Iraq and a team in the long war at home, facing a daunting return to civilian life. Both the man and the dog came back damaged, diagnosed with post-traumatic stress, and they were healing together.
But Sgt. Matthew Bessler's worst nightmare came true when Mike, his wartime partner-turned service dog, was shot and killed Oct. 10 in Powell, Wyo., by a bicyclist who said the dog was attacking him.
"That dog was the other half of me," Bessler, 43, said in a long, often tearful, telephone interview on Sunday.
The Army Ranger's relationship with the dog was first chronicled in the Washington Post in July.
As word of the dog's death spread in Powell, Bessler's friends leaped into action, starting with a fundraising campaign to help him pay for a burial with military honors.
Jess Campbell, who owns The Gym in Powell, started a GoFundMe campaign to raise money for all the costs associated with a war hero's burial. Campbell, who met Bessler and Mike when Bessler started taking a 5 a.m. weight-training class, set what she thought was a lofty goal: $10,000, expecting a few thousand dollars to come in, she said. As of Tuesday, the campaign had raised over $14,000.
While the donations were pouring in, Campbell also heard from veteran and combat dog advocacy groups that have committed to covering all the costs associated with the burial and funeral and to providing Bessler with a new service dog. A private donor has even volunteered to pay to erect a memorial to "Major Mike" in a local park.

Matthew Bessler should have been hunting in Shell, Wyo., this week with a dog he loved enough to call a family member. But after a fatal encounter over the weekend, the combat-turned-service dog is dead, and in the absence of Mike, a 9-year-old Belgian Malinois, Bessler is left seeking answers.
On Saturday, a man on a bicycle stopped in the road adjacent to Bessler's property and fatally shot Mike. Bessler was away, hunting in the Bighorn Mountains.
Mike and Bessler did two tours in Iraq that left both with post-traumatic stress disorder. Nobody witnessed the Saturday shooting. According to the Powell Tribune, the Park County Sheriff's Office believes the man's actions were justified because he felt threatened by Mike, despite the entry wounds being in the dog's backside. Bessler disputes their findings and hopes, through "civil means," to find out what exactly happened to Mike.
"I would like to take a civil avenue to go after him — the gentleman that shot him — because Mike was a retired military officer." Bessler said. "I mean, it's not just a wrongful use of force."
Mike turned 9 in May and should have gone with Bessler on a Hunting with Heroes trip for veterans in Shell this week. Without Mike, Bessler may have a harder time dealing with his combat-related medical issues.
"I raised him and trained him as a puppy, and the ability he has to sense some of the issues that I have with seizures, with my PTSD, my TBI (traumatic brain injury) and severe anxiety disorders, how he can calm me down just by him being in my presence," Bessler said. "He can help take the focus and help change the focus of what's going on with me and help me calm down or relax me."[…]
The Powell Tribune, citing the police report filed by the bicyclist who shot Mike, noted how the man described feeling threatened by a pack of dogs he encountered in the road. The report, according to the Tribune, says the man first used his bicycle as a defense and then resorted to a revolver mounted to his bicycle.
He shot Mike with what the man said was birdshot. The man had no injuries and shot Mike from 5 to 10 feet away in the dog's backside, according to the Powell Tribune's reporting on the police documents, which also noted the man "later admitted that while several dogs came near him, only Mike threatened him."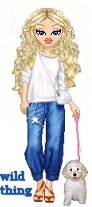 Wild Thing's comment..............
This was so terrible what happened to this hero dog, I am so glad something will be done to honor him.
Posted by Wild Thing at October 25, 2015 12:55 AM
---