« ISIS Threatens Medal Of Honor Recipient and other Veterans | Main | 'Homeland' Speech Tells it Like it Is About ISIS »
October 12, 2015
FBI Tells Troops To Scrub Social Media So Jihadists Can't Track Them

FBI Tells Troops To Scrub Social Media So Jihadists Can't Track Them

The FBI and Department of Homeland Security are warning members of the U.S. military to scrub their social media accounts of all personal info such as addresses as jihadists are now encouraging attacks on individual personnel.
"Anybody wants to do harm to our military, they just go online, they look at that. They see he's deployed, his family is home alone, now we have a target" said Fox News national security analyst K.T. McFarland.
Terror groups such as ISIS have encouraged their fighters to go to the homes of members of the military and kill them and their families.
This warning has also been applied to military veterans as well.

Fox News:
The FBI and DHS are warning members of the United States military to scrub their social media accounts due to a growing threat from ISIS terrorists.
Catherine Herridge reported on "Happening Now" today on the joint bulletin that went out over the weekend.
The bulletin said the FBI has information suggesting "individuals overseas are spotting and assessing like-minded individuals who are willing and capable of conducting attacks against current and former U.S.-based members of the United States military."
Officials want current service members and veterans to review their social media posts and remove information that could "attract the attention of ISIS and its supporters."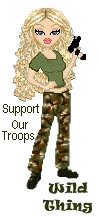 Wild Thing's comment..........

Note that we as Americans are to change our lives and at the same time Obama keeps favoring the enemy. How screwed up is that.
Posted by Wild Thing at October 12, 2015 01:47 AM
---
Comments
They've been telling GI's this for quite some time now.
Posted by: BobF at October 12, 2015 10:12 AM
---