« Navy Officer Did Something Heroic During Chattanooga Shooting, But May Be PUNISHED For It | Main | Obama Empowering the Iranian Who Murdered Americans »
August 03, 2015
Just Like Obama,More THREATS from Trump...Trump: I Will Consider Third-Party Run if GOP Doesn't Treat Me 'Fairly'

Trump: I Will Consider Third-Party Run if GOP Doesn't Treat Me 'Fairly'

Sunday on ABC's "This Week," Republican presidential candidate Donald Trump said he would "certainly not give up" the possibility of running as a third-party candidate if he is not treated "fairly" by the GOP.
When asked if he would pledge not to run as third-party candidate, Trump said, "I'm leading in every poll, in some cases by a tremendous margin. People who know me aren't surprised. If I'm treated fairly by the Republican Party I would no interest in doing that. If I'm not treated fairly by the Republican Party, I very well might consider that, I would certainly not give that up."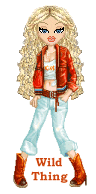 Wild Thing's comment........
What a total jerk Trump is and he likes to make his childish threats just like Obama. This should scream out to voters what a spoiled brat Trump; is, his way or the highway attitude.
Posted by Wild Thing at August 3, 2015 12:47 AM
---