« Kenyan Politician: If Obama Brings 'Gay Agenda, We Will Tell Him to Shut Up and Go Home' | Main | Obama Slips Up and Says "We're Training ISIL" »
July 08, 2015
Army plans to cut 40,000 soldiers

The Army plans to cut 40,000 soldiers from its ranks over the next two years, a reduction that will affect virtually all of its domestic and foreign posts, the service asserts in a document obtained by USA TODAY.
The potential troop cut comes as the Obama administration is pondering its next moves against the Islamic State militant group in Iraq and Syria. President Obama said Monday he and military leaders had not discussed sending additional troops to Iraq to fight the Islamic State. There are about 3,500 troops in Iraq.
"This will not be quick — this is a long-term campaign," Obama said at the Pentagon after meeting top military brass in the wake of setbacks that have prompted critics to call for a more robust U.S. response against the Islamic State.
An additional 17,000 Army civilian employees would be laid off under the plan officials intend to announce this week. Under the plan, the Army would have 450,000 soldiers by Sept. 30, 2017, the end of the 2017 budget year. The reduction in troops and civilians is due to budget constraints, the document says.
The Pentagon's budget, released in February, envisioned the reduction to 450,000 would occur by Sept. 30, 2018.

The Army should bottom out at 450,000 soldiers, said Michael O'Hanlon, a military analyst at the Brookings Institution.
Cutting "more would make me quite nervous," he said.
The Army declined to comment on the proposed reductions in its forces.
If the automatic budget cuts known as sequestration, set to begin in October, take place the Army would have to slash another 30,000 soldiers, according to the document. At that level, the Army would not be able to meet its current deployments and respond to demands for troops in other regions.
Among the proposed changes, brigades at Fort Benning, Ga., and Joint Base Elmendorf-Richardson in Alaska will be downsized from units of about 4,000 soldiers to battalion task forces of 1,050 soldiers.
Downsizing Army forces in Alaska "makes no strategic sense," said Sen. Dan Sullivan, a Republican member of the Armed Services committee from Alaska. The White House emphasis on shifting military assets to the Asia-Pacific region and concerns about Russian aggression in the Arctic require strong forces in Alaska.
"One person who's going to be very pleased with this is Vladimir Putin," Sullivan said.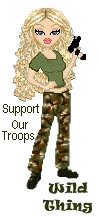 Wild Thing's comment...............
I really hate this.
Posted by Wild Thing at July 8, 2015 12:50 AM
---
Comments
We're drawing down while the Russians and Chicoms are building up.
We're in trouble folks. We spent multi-billions on the F-35 and it's can't out-fly and outfight the 40 year old F-16.
Posted by: BobF at July 8, 2015 09:17 AM
---
This will put more pressure on the Guard and Reserves. I also wonder how many of these troop cuts will be among the combat MOS's. Damn obama to hell.
Posted by: TomR,armed in Texas at July 8, 2015 01:51 PM
---