« Governor Rick Perry, an American Hero, and a Harley | Main | Krauthammer : Clinton Emails a Farce »
May 22, 2015
Join Captain Dan Moran (USMC) Ret. for Rick Perry Announcement June 6th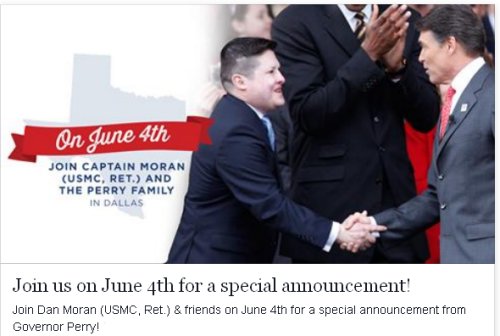 As a United States Marine, I witnessed leadership make the difference between success and failure, life and death. I learned that it takes experience to keep calm under pressure, act decisively, and lead the way to victory.
At 11:30am CT on Thursday, June 4, I hope you will join me in Addison, Texas, as we stand with a proven leader who will share his vision for the future of America, Gov. Rick Perry.
Together, we'll celebrate what's great about America and witness a turning point in the fight to restore principled leadership to our country. So please RSVP today to join me and patriots like:
Retired U.S. Navy SEAL Paul Craig
Retired U.S. Navy SEAL JJ Jones
Taya Kyle, widow of Chris Kyle, the most lethal sniper in U.S. history and author of American Sniper
Retired U.S. Navy SEAL Marcus Luttrell, author of Lone Survivor
Melanie Luttrell, wife of Marcus Luttrell
Navy SEAL Morgan Luttrell
Retired U.S. Marine Corps Captain Dan Moran
Retired U.S. Navy SEAL Pete Scobell
Brad Thor, New York Times bestselling author
Retired U.S. Navy SEAL and Medal of Honor Recipient Mike Thornton
See you in Addison.
Respectfully,
Dan Moran
Captain USMC (Ret.)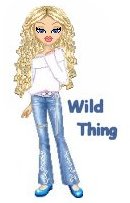 Wild Thing's comment...........
Love this list from Dan Moran and there are others in other branches of service as well.
Posted by Wild Thing at May 22, 2015 12:55 AM
---