« Sheriff David Clarke: The NAACP Is Irrelevant - They Have Been Since 1954 | Main | Join Captain Dan Moran (USMC) Ret. for Rick Perry Announcement June 6th »
May 22, 2015
Governor Rick Perry, an American Hero, and a Harley
Governor Rick Perry, an American Hero, and a Harley
(22 Photos)

Later this week, you'll hear the story of Jack Holder, one of the most famous living WWII airmen, who fought his way across both Pacific and European theaters of war. A Texas native and a good friend of mine, Jack confided in me that he was a big fan of Gov. Rick Perry. The Governor had been instrumental in theCHIVE's highly-publicized move from California to Texas, during which time the Governor and I connected – we're both WWII enthusiasts to an extent far beyond a hobby.
So I called the Governor and asked if he'd take time out of his busy schedule to visit with this hero? Governor Perry, an Air Force Captain himself, simply responded, "When and Where?" What followed was one of the most fascinating and powerful discussions we've ever had on theCHIVE, all of which was recorded on our Podcast. It's available for download right here.
As the Governor was leaving our office having deftly dodged all my, "On a scale of 1 to 10, are you running for President?" I asked him about his upcoming travel plans and the Governor lit up. Gov. Perry told me he was headed to Iowa on June 6th for a 30 mile motorcycle ride from Perry, Iowa, to Boone to raise money for the Puppy Jake Foundation, an organization that trains and places service dogs with wounded veterans. I asked him which motorcycle he was riding?
"I'm trying to figure that out right now, actually."
"Governor, I think I know a guy in Iowa who could help you out in that department."
"That's really not necessary, John."
"Have you ever heard of a man named Taylor Morris…"

Navy EOD tech Taylor Morris was leading a team of Army Special forces to a classified location when Taylor stepped on an IED. It exploded underneath him and blew off all four of his limbs,
"As I somersaulted through the air, I watched my arms and legs fly off."
Taylor landed back in the blast crater. This is where the story of Taylor's bravery goes next-level.
After the explosion, Taylor didn't lose consciousness; he didn't go into shock. His thoughts immediately crystalized. Even though Taylor was bleeding to death, he called to the oncoming medics NOT to come get him, putting their safety in front of his own life.
"There was no visual on the mine and no sound ID on my mine detector. That told me the mine was old. If there were other mines out there, the medics wouldn't see them or detect them unless it was cleared properly. I knew I had arterial bleeding from all 4 limbs and I was bleeding out fast. I told my buddies to stop, I didn't need anybody stepping on another one."
The area around Taylor was finally cleared by the second EOD and the medic finally administered combat casualty care. Taylor remained conscious through the ordeal. Somehow he survived…
Three days after the explosion, Taylor landed back in the States and was transported to Walter Reed hospital in Washington D.C. to begin the long and painful rehab process. Upon his arrival, Taylor became only the 5th person at Walter Reed to ever survive a four limb amputation.
His physical progression defied everybody's expectations. Taylor was known to refuse to leave rehab – he pushed himself to his physical limits, despite the pain. Only a month after the explosion the stitches in his arms were removed and he was fitted for prosthetics.
Around that same time I heard of the man named Taylor Morris. I received a dozen personal emails from many of his brothers describing his heroism on the battlefield, how difficult his road to recovery would be, and about his girlfriend Danielle, who was the only person they knew who was just as strong as Taylor. She never left his side at Walter Reid.
With his medical bills paid, theCHIVE quickly launched a campaign to build Taylor his dream home when he finally returned to Iowa. The campaign shattered GoFundMe records, raising $250,000 in 24 hours.

After 2 years of rehab, Taylor returned home to Iowa a hero.

After I told the Governor about Taylor Morris, he explained he'd be out in Iowa near Taylor's home in Cedar Falls on the 19th and would love to visit Taylor if it was okay with him?
I called Taylor and asked if he still had that bike and was "putting oil in it n' stuff." I explained to him the Governor had a big charity ride for veterans in June.
"Of course. Can he ride? It's a fast bike, John."
"I'm pretty sure he can, I dunno."

Governor Perry arrives on the farm and greets Taylor and his fiance, Danielle.

Please CLICK HERE to continue story and see the amazing and wonderful photo essay as well it is well worth it.
~Chrissie.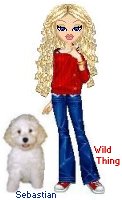 Wild Thing's comment..........

This is such a great story and I loved seeing the photos with it. Perry truly cares about his fellow Veterans and our troops. I love that he is a Veteran.
Posted by Wild Thing at May 22, 2015 12:50 AM
---
Comments
The men and women of the Armed Forces of the United States would be proud to call Rick Perry their Commander In Chief. Once again, they would be able to hold their heads high as they acknowledge him.
Posted by: BobF at May 22, 2015 07:04 AM
---
If Perry runs i will be behind him 100%. Like Dubya, Perry is an unashamed patriot. Perry will ride this man's Harley with pride and appreciation. Perry has shown as a USAF officer and Texas governor that he knows what it takes to be responsible. capable and successful in honest endeavors. America needs to be saved, brought back from the dying. Rick Perry can do it on a par with what Ronald Reagan did in the 80's.
Posted by: TomR,armed in Texas at May 22, 2015 12:37 PM
---