« Gov. Bobby Jindal Says Rand Paul Is Unfit To Be Commander-In-Chief - Thank you Jindal I agree! | Main | Baltimore State's Atty Marilyn Mosby Is Trying to Stack Jury to Get Cops Indicted »
May 29, 2015
Emails show Clinton's interest in arming Libyan rebels despite prohibitions
Emails show Clinton's interest in arming Libyan rebels despite prohibitions

Recently released emails detail then-Secretary of State Hillary Clinton's interest in arming Libyan opposition groups using private security contractors before the fall of Muammar Qaddafi in 2011 – though at the time, the opposition was not formally recognized by the U.S. or United Nations, which prohibited arming without following strict guidelines and oversight.
The issue remains so sensitive that the emails recently released by the State Department redacted a key line on the matter. But the unredacted version of the same email, released to the congressional Benghazi Select Committee and first posted by The New York Times last Thursday, showed Clinton appearing to endorse the idea of using private contractors to her then-deputy chief of staff, Jake Sullivan.
"FYI. The idea of using private security experts to arm the opposition should be considered," Clinton wrote to Sullivan on April 8, 2011, attaching an intelligence report from Hillary's adviser Sidney Blumenthal. The opposition was known as the Transitional National Council, or TNC.
Another email released by the State Department shows that five days earlier, on April 3, 2011, Bill Clinton said he would not rule out arming the Libyan opposition. The story was circulated by Cheryl Mills, Hillary Clinton's principal personal adviser at the State Department, to "H." While it's not clear who "H" is, based on the message traffic it is likely Hillary Clinton or possibly adviser Huma Abedin.
Later that same year, a Sept. 10, 2011 email with a subject line "Rogers" said, "Apparently wants to see you to talk Libya/weapons."
At the time, the Republican chairman of the House Intelligence Committee was Mike Rogers, who abruptly announced he would not seek re-election in the spring of 2014. Rogers did not immediately respond to questions seeking comment. Fox News also filed its own Freedom of Information Act request for the documents in October 2012.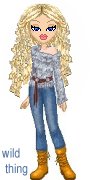 Wild Thing's comment...........
Dangerous filthy criminals. It is sickening.
The Conservative Treehouse absolutely nailed all this in The Benghazi Brief. That was one of the best news article analysis pieces I have ever read. Lengthy, but right on the money
Posted by Wild Thing at May 29, 2015 12:45 AM
---