« Mark Levin: 'US Senate Just Capitulated to Obama,' and Rewrote the Constitution's Treaty Provision | Main | Muslim Man Who Trained With ISIS, And Returned To U.S. To Carry Out Attacks, Arrested In Ohio »
April 17, 2015
Fort Hood Victims Will Finally Get Their Long Denied Benefits
Fort Hood Victims Will Finally Get Their Long Denied Benefits

WASHINGTON (April 16, 2015) — Secretary of the Army John McHugh announced today that he has directed the United States Army to provide all possible benefits to victims of a 2009 attack at Fort Hood who were recently awarded the Purple Heart medal.
Last week, 36 soldiers and surviving family members of the attack were awarded the Purple Heart medal during a ceremony at Fort Hood, Texas. The ceremony came after Congress expanded eligibility criteria for the Purple Heart, allowing the medal to be awarded to Soldiers wounded or killed in incidents that were previously ineligible.
"In addition to the Purple Heart medal, there are certain other benefits for which Soldiers receiving the Purple Heart are traditionally eligible," McHugh wrote in an April 14 memorandum. "I intend to ensure that the Soldiers receiving the Purple Heart under the expanded criteria also receive all other related benefits for which they are eligible."
Among the benefits ordered by McHugh is payment of hostile fire pay for those Purple Heart recipients "killed, injured, or wounded" in the attack, as well as combat-related special compensation for retired soldiers whose disability is attributable to an injury for which they were awarded the Purple Heart.
"After making the determination that the victims of the Fort Hood attack are now eligible for the Purple Heart, it seems only right and fair that these Soldiers also receive the benefits it traditionally entails," McHugh said. "That's why I directed an expedited process to make certain that happens."
McHugh explained that there may be additional benefits, and that he has directed a review to determine "whether these Soldiers may be entitled to any other benefits or compensation as a result of the award of the Purple Heart." A report is due back to the Secretary within 30 days.
In addition to the victims of the Fort Hood shooting, McHugh's actions would be applicable to a 2009 attack on a Little Rock, Arkansas, recruiting station where Private William Long was killed, and Private Quinton Ezeagwula wounded. Both will be awarded the Purple Heart following the expanded eligibility criteria mandated by Congress. The Army is continuing to look into whether there are other soldiers previously determined to be ineligible for the Purple Heart who may now qualify under the expanded criteria.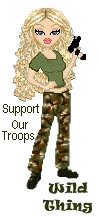 Wild Thing's comment..............
It's about time!!! It took SIX YEARS??? Six years??!! GOOD GAWD
Posted by Wild Thing at April 17, 2015 12:50 AM
---
Comments
obama does not want to acknowledge that the Ft Hood shooting was a terrorist attack.
Posted by: TomR,armed in Texas at April 17, 2015 04:57 PM
---