« A True Leader! Israeli Prime Minister Benjamin Netanyahu's full speech to Congress | Main | Rush Limbaugh: Obama Treats Netanyahu Like He's a "White Policeman from Ferguson" »
March 04, 2015
Krauthammer: It's As If the Clintons Are Entitled To Their Own Rules.Charles calls it 'Clintonian'.

Krauthammer: It's As If the Clintons Are Entitled To Their Own Rules.Charles calls it 'Clintonian'.

Foreign donations to the Clinton Foundation and now using her own private email while she is Secretary of State.
The Right Pundit
Congress will probe Hillary Clinton's emails
Oversight Committee To Join Benghazi Committee In Probing Hillary Emails For Violation Of Federal Law
A congressional committee will review whether Hillary Clinton violated federal law by using a personal email account to conduct government business as secretary of state, it was announced Tuesday.
House Oversight Committee Chairman Jason Chaffetz (R-Utah) said his panel will join with the Benghazi committee in reviewing whether Clinton broke any disclosure laws.
"Violations of the Federal Records Act within federal agencies is something we take very seriously," Chaffetz said.
"The House Oversight Committee will work with (Chairman) Mr. (Trey) Gowdy and the Select Committee on Benghazi to further explore Hillary Clinton's use of personal emails while at the State Department."
Clinton, still facing fallout from a 2012 attack on a diplomatic outpost in Libya that killed an ambassador and three security aides, is under fire for the email controversy.

Critics said that by using a personal email address, Clinton may have breached security and broken disclosure laws.
Not only did Clinton send and receive tens of thousands of emails from the unregulated address, she was never during her four-year tenure issued an official government account with which to communicate.

Chairman Trey Gowdy told reporters on Tuesday that lawyers for the Benghazi Committee would be issuing the new requests - which he didn't rule out could come in the form of subpoenas - to Clinton and her email providers in the coming weeks.
"It was not as if she had both an official and a private email account. She did not use personal email in addition to government email. She used personal email in lieu of government email," Gowdy said. "And she had more than one private email account."
"The State Department cannot certify that have produced all of former Secretary Clinton's emails because they do not have all of former Secretary Clinton's emails nor do they control access to them," he said.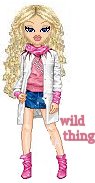 Wild Thing's comment.............
This is all so typical of the Clinton's. Bill Clinton's residency showed he thought he was above the law a lot of the time with all the 'gates" and Hillary is just the same.
Posted by Wild Thing at March 4, 2015 12:47 AM
---