« Muslims Angry Over Charlie Hebdo Cartoon Attack Police Station, Loot Christian Homes and Set Fire To Christian Churches in Niger | Main | Obamacare penalty may come as shock at tax time »
January 18, 2015
Box Office: 'American Sniper' Breaks Record, 'Selma' In Death Spiral
Box Office: 'American Sniper' Breaks Record, 'Selma' In Death Spiral

The early estimates for director Clint Eastwood's pro-War On Terror masterpiece "American Sniper" hovered around $40 million. Obviously our provincial box office gurus under-estimated the American people's desire to see their warriors, wars, and country properly honored and honestly portrayed. In its wide-release debut, the story of Navy SEAL Chris Kyle is estimated to hit $75 million. UPDATE: $80 million.
Seventy-five million doesn't just beat the previous January/Martin Luther King. Jr. weekend record, it obliterates the $41 million earned by "Ride Along" last year.
On Friday alone, with a $28 – $30 million haul, "American Sniper," will beat or nearly beat Clint's own best 3-day weekend; his "Gran Torino" haul of $29.5 million.
If that's not enough, after bringing in $5.3 million, "Sniper" now holds the record for an R-rated movie's late-night Thursday opening.
Despite a also-ran Best Picture nomination and adding +56 theatres, producer Oprah Winfrey's dishonest Civil Rights drama "Selma" lost -19% of its audience over last weekend.
That's the worst showing of any Best Picture nominee still in theaters.
After a disastrous opening weekend, "Selma" could only dig up another $11.2 million over — of all things — the Martin Luther King, Jr. 4-day weekend.
God, family and country are box office bonanzas.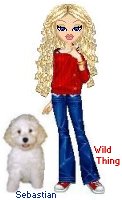 Wild Thing's comment............
I am so glad. We have not seen it yet, but even so I am thrilled it is doing so well.
Posted by Wild Thing at January 18, 2015 12:55 AM
---
Comments
I watched it last night. A very moving that made you proud to be an American and that there are men like Chris Kyle willing to sacrifice so much for this nation. But, the ending got me mad. Mad as I watched the memorial and funeral precession and realized that that worthless POS in the White House never sent a representative to the funeral of a man who gave so much to this nation but sent three to the service for a thug who attacked and tried to kill a police officer in Ferguson.
Posted by: BobF at January 18, 2015 10:28 AM
---