« Charlie Crist Holds Illegal Campaign Event in Government Building | Main | As Many As 30 Men Released From Gitmo Now Fighting With ISIS And Other Terrorist Groups »
November 02, 2014
Navy Vet Spots Purse-Snatching Punk Knocking 76-Year-Old Woman to the Ground — and Issues the Punk a Painful Lesson
Navy Vet Spots Purse-Snatching Punk Knocking 76-Year-Old Woman to the Ground — and Issues the Punk a Painful Lesson

Navy veteran Kendrick Taylor was on his way to the gym in Orange County, Florida, when he saw something that got his blood pumping much faster: A man attacking an elderly woman and trying to steal her purse.
What if that was my grandmother? She was screaming for help. That's when I ran over to help her," Kendrick Taylor told WESH-TV in Orlando. "When I looked down I didn't know if he had a knife or a gun. When I saw the lady was so old when he threw her down, she was so fragile…I knew she needed help."
So Taylor went right at the culprit in the parking lot of a Winn-Dixie on Wednesday.
The purse snatcher noticed he was about to get clobbered, tried to run away — but not quite fast enough as Taylor grabbed him and tackled him to the asphalt.
"When I finally got my hands on him, I just…told some local people to call the police and they got here and I kept him down," Taylor told WESH.

John Zachary DesJardin, 23, who was on probation for unrelated offenses, was charged with attempted robbery and battery on a person 65 or older, WESH reported.

"He definitely needs to face some jail time," Taylor offered to the station. "He has to know what he did was very wrong."
While the victim, 76-year-old Rosemary Carelton, suffered minor injuries and was traumatized, her niece told WESH the whole family is thankful Taylor and others intervened.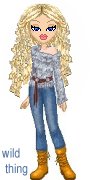 Wild Thing's comment.........
Glad they got the guy.
Seaman Taylor – Thank you for your service to our country.
Posted by Wild Thing at November 2, 2014 12:50 AM
---
Comments
IF most VETS voted for anyone but Obama's regime the nation would not be in this mess... VOTE on Tuesday!
Posted by: darthcrUSAderworldtour07 at November 2, 2014 06:03 AM
---
Something to put a smile on my face to start the week off. Thanks Chrissie.
Posted by: BobF at November 2, 2014 08:10 AM
---