« Texas Sen. Ted Cruz calls on John Kerry to Resign as Secretary of State for Comparing Israel to "Apartheid" | Main | Krauthammer Agrees With Ted Cruz: John Kerry's Comparing Israel to "Apartheid" is a "Resigning-Type Statement" »
April 29, 2014
EPA Vows To Go After Republicans Who Dare Question Agency's Science - This is NOT the USA I have known!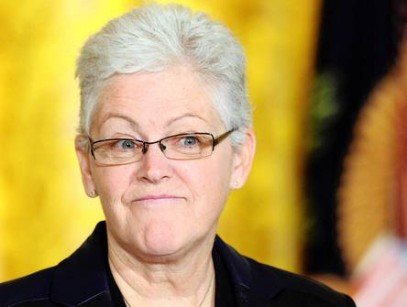 EPA Vows To Go After Republicans Who Dare Question Agency's Science

Environmental Protection Agency administrator Gina McCarthy has issued a warning to Republicans who continue to question the integrity of the agency's scientific data: we're coming for you.
McCarthy told an audience at the National Academy of Sciences on Monday morning the agency will go after a "small but vocal group of critics" who are arguing the EPA is using "secret science" to push costly clean air regulations.
"Those critics conjure up claims of EPA secret science — but it's not really about EPA science or secrets. It's about challenging the credibility of world renowned scientists and institutions like Harvard University and the American Cancer Society," McCarthy said, according to Politico.
"It's about claiming that research is secret if researchers protect confidential personal health data from those who are not qualified to analyze it — and won't agree to protect it," she added. "If EPA is being accused of secret science because we rely on real scientists to conduct research, and independent scientists to peer review it, and scientists who've spent a lifetime studying the science to reproduce it — then so be it.


Wild Thing's comment...........

Abolish the EPA. Whenever they say it is "settled science", it means it's still unsettled and still very controversial.
The EPA has turned into a thuggish organization that extorts money from businesses with so many rules and regulations that they are business killers. They need to go. Her new edict reminds me of the way the old Soviet Union operated.
Yeah, we'll question your science EPA. Yes we will.
Posted by Wild Thing at April 29, 2014 12:50 AM
---
Comments
How dare the EPA threaten the elected representatives of the American People! If...and I say IF...Republicans get control of the Senate and keep the House, they better defund the EPA or bring it under control. The have way too much power for a bureaucracy and their head threatening elected leaders is proof of this.
Posted by: BobF at April 29, 2014 10:14 AM
---