« WOW! S&P Chairman: Obama Regime Threatened Us After We Downgraded America's Credit Rating In 2011 | Main | U.S. Olympians Tell Their Families To Skip Sochi Over Security Concerns (Video) »
January 24, 2014
Egomaniac O'Reilly to interview Dictator egomaniac Barack Obama Before the Super Bowl ... Leave Our Football Alone O'Reilly and Obama
O'Reilly to interview Barack Obama Before the Super Bowl

Obama will give his annual Super Bowl interview to Fox News host Bill O'Reilly this year -- a sit-down that, if history is any guide, promises to be somewhat contentious.
As tradition, President Obama always gives a Super Bowl interview to the network hosting the big game. This year, that falls to Fox, which has tapped O'Reilly, a frequent Obama critic, to conduct the interview.
In addition to the live interview, which will air Feb. 2 ad 4:30 p.m. ET, O'Reilly will conduct a more extensive taped interview that will air on his Fox News program the following evening.
O'Reilly last interviewed Obama ahead of the 2011 Super Bowl and frequently challenged the president's statements on his Health Care legislation.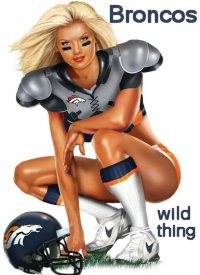 Wild Thing's comment.............
Blah blah blah....... to BOTH of them. I am not interested in what either one of these jerks has to say. Superbowl Sunday should be just that and not about politics, especially anything about the POS Obama.
Posted by Wild Thing at January 24, 2014 12:45 AM
---
Comments
Chrissie, it's so exciting seeing you in your Bronco uniform!
Are you the quarterback for Mile High Lingerie Football League?
Jus' axin'!
I also totally agree with your comment 'bout the prezzy interview
before the Super Bowl game! That's an insult to every football
fan in the country! To bad the entire bazillions of fans at the
game can't all start shouting in unison, 'BOO OBAMA' as soon
as the TV coverage in the stadium starts!
Posted by: Lance Luhrquer at January 24, 2014 02:21 PM
---
Lance, haha thank you and I love the Bronco's.
Posted by: Wild Thing at January 25, 2014 12:39 AM
---