« Obama admin. knew about WWII Veterans' request and rejected it ! | Main | List Of Democrats Who Voted Against Funding Veterans »
October 02, 2013
Louie Gohmert, Steve King, Roger Wicker and Others Escort World War II Veterans through Obama Administration Barricades to see the World War II Memorial
When the people try to limit government, government likes to take away certain things. Like parks and memorial sites. As I wrote about it my post below this post, yesterday the Obama Administration tried to shut down the open-air World War II Memorial on the National Mall. They even put up barricades.

Louie Gohmert, Steve King, Roger Wicker and Others Escort World War II Vets through Barricades to see the World War II Memorial
Here is outstanding video of an Honor Flight Group of World War II Veterans going through barricades at the World War II Memorial in Washington D.C. to see the Memorial, despite the Memorial being closed due to the Government Shutdown.
In the video, I can see GOP Rep. Louie Gohmert and GOP Sen. Roger Wicker (I think) there to help them. There may be others I don't recognize. You can hear Gohmert approach the vets and tell them, "It's my honor to escort you." Rep. Steve King was also there, and tweeted about the experience.
Absolutely outstanding!!!!!
They didn't count on these guys going through them:
The graying and stooped men, wearing blue baseball caps, red T-shirts and garlands of red, white and blue flowers, surged forward . . .
A shout went up. The barricades had been moved — it was unclear by whom.
Sen. Roger Wicker (R-Miss.) said he believed the Park Service opened the gates. Rep. Bill Huizenga (R-Mich.) said the congressmen did it. Rep. Steven M. Palazzo (R-Miss.) said the barricades just seemed to part.
"I'm not going to enforce the 'no stopping or standing' sign for a group of 90 World War II veterans," said a U.S. Park Police officer, who declined to give his name. "I'm a veteran myself."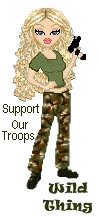 Wild Thing's comment............
God bless these people for ignoring the BS and pushing forward. These heroes made a long trip, extra long IMO when a person has disabilities to deal with, they deserved better then to be stopped ( for one thing it was only the first day of Obama closing down government things. sheesh )
Posted by Wild Thing at October 2, 2013 12:47 AM
---
Comments
This was great. Thank you to those congressmen and the Park Ranger(s) who turned their backs. Michelle Bachman also showed up there and supported the vets.
I hope that if the Vietnam Veterans Memorial is roped off that our guys do the same thing.
Posted by: TomR,armed in Texas at October 2, 2013 12:04 PM
---