« Awesome Rep. Trey Gowdy and His Explosive Claim About Benghazi Survivors | Main | Truckers To Shut Down America on Oct 11, 12 & 13 »
September 21, 2013
Dictator Freak Obama Temper Tantrum: Republicans 'trying to mess with me'
Republicans 'trying to mess with me'...
LIBERTY, Mo. — With Washington facing a potential government shutdown, President Obama traveled to the heartland Friday and delivered a combative rebuke of congressional Republicans for "trying to mess with me" instead of governing responsibly.
Obama railed at length against Republican lawmakers, whom he accused of "holding the economy hostage" by threatening not to fund the government and not to raise the government's debt limit.
"Unfortunately right now, the debate going on in Congress is not meeting the test of helping middle class families," Obama said. "They're not focused on you. They're focused on politics. They're focused on trying to mess with me. They're not focused on you."
Obama's rousing speech at a growing Ford manufacturing plant here on the outskirts of Kansas City amounted to an opening salvo against House Republicans heading into another intense skirmish over federal spending.
Obama spoke a couple of hours after the House passed a short-term budget bill that would pay for government operations through mid-December but withhold funding for Obama's signature health-care law.

( more at link above if you can stand it)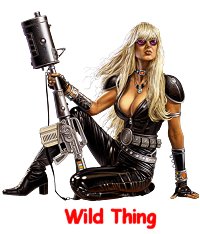 Wild Thing's comment.................
Screw you Obama.
Posted by Wild Thing at September 21, 2013 12:48 AM
---
Comments
I listened to a little of his speech yesterday. It was noting but a campaign speech along with blaming Republicans for his failures. Will this guy ever become a leader, accept responsibility, and work to make America better? It's been five years and it's just the same with him. He has no leadership or executive ability. He's noting but a professional campaigner and finger pointer.
Posted by: bobf at September 21, 2013 11:57 AM
---
That is WHAT we are HERE to do, dude.
Don't like it, get up and leave the job!!!
Posted by: Heltau at September 22, 2013 12:06 AM
---
...could little Barry be headed for a meltdown?
Posted by: Willy at September 23, 2013 08:15 PM
---