« Sen. Jeff Sessions: "Gang of 8′ would give legal status to 57 million, including non-immigra​nt visas"- Future Democrat Voters and criminals! | Main | John Bolton "Stunned" at High Positions of Benghazi Whistleblowers; House Testimony Could be"Very, Very, Dramatic" »
May 04, 2013
Taya Kyle, Chris Kyle's Widow, Speaks At Memorial For Chris At NRA Leadership Forum: "An Everyday Man Loving His God, His Country And His Family"
Taya Kyle, Chris Kyle's Widow, Speaks At Memorial For Chris At NRA Leadership Forum: "An Everyday Man Loving His God, His Country And His Family"

Before Taya Kyle, the wife of slain Navy SEAL sniper Chris Kyle, even said a word, the crowd at the National Rifle Association Leadership Forum was on their feet giving her the longest standing ovation of the day. Just before she took the stage, a video honoring Kyle was shown at the Houston event.
"I challenge anyone to tell me there isn't evil in this world," Kyle said, her voice drenched in emotion. "From the days of Cain and Abel, we know all too well there will always be evil. But that evil shouldn't take away our freedoms. In fact, the only way to defeat evil is by taking advantage of our freedoms.
Kyle went on to talk about the side of her husband that people never knew.
"First, promise me that you won't think of Chris solely as a hero. He wouldn't want that. Instead, I ask you to see him the way he would've wanted you to see him. As just an everyday boy who did his best at what he loved, growing into an everyday man, loving his God, loving his country…and loving his family," she said, wiping a tear from her eye as the audience interrupted her with applause.
The widow talked about her slain husband's appreciation for guns and insisted that guns do not commit acts of evil, people do.

Though she held up remarkably well while talking about her husband, there were moments when her emotions got the best of her, particularly when she saw a meaningful photo of Chris Kyle riding a horse and wearing a cowboy hat put on the big screen behind her.
"He grew up to be a fine cowboy, and a handsome one at that if you don't mind me saying," Kyle quipped being overcome with emotions.
Kyle thanked the entire audience for fighting for the rights of all Americans, including veterans, which is what Chris would have wanted, she said. Chris Kyle dedicated his life to helping fellow veterans, including creating the FITCO Cares Foundation that serves veterans.
Kyle, 38, and his friend Chad Littlefield, 35, were killed on Saturday, Feb. 2, 2013, by a troubled veteran going through a tough time. He wasn't trying to "treat" the troubled vet, he was simply trying to be a brother to a fellow serviceman. Kyle proudly talked about regularly taking soldiers suffering from physical or emotional issues on hunting trips and other outdoor activities to provide comradery, friendship and support.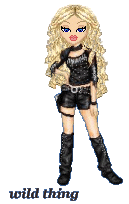 Wild Thing's comment.............

God bless Taya Kyle and prayers for her.
Posted by Wild Thing at May 4, 2013 12:55 AM
---
Comments
God bless Taya Kyle. Does the Liberal elite political class want to create a society incapable of producing another Chris Kyle ? Look what that school did to the young honor student and Eagle Scout who forgot to remove his firearm from his truck before he drove to school...
Posted by: Willy at May 7, 2013 01:15 AM
---