« We Knew Benghazi Was A Terrorist Attack "From The Get-Go"…said Greg Hicks in Interview: "Never Reported Demonstration, Reported Attack" | Main | Total Jerk Harry Reid Calls Sen. Ted Cruz A 'Schoolyard Bully' on the Senate Floor ~ Cruz responds 'I wasn't aware we were in a schoolyard' »
May 06, 2013
Military Told To Stand Down from Obama and his Administration , Quick Response Team Never Called, Witnesses Intimidated And Hidden
Military Told To Stand Down, Quick Response Team Never Called, Witnesses Intimidated And Hidden

They even changed the name on the hospital records to hide the identity of an injured witness.
Benghazi how there was begging for help in emails and how what Obama did with the Generals in nearby locations that wanted to help.
General Ham as head of Africom received the same e-mails the (Obama) White House received requesting help/support as the attack was taking place. General Ham immediately had a rapid response unit ready and communicated to the Pentagon that he had a unit ready.

General Ham then received the order to stand down. His response was to screw it, he was going to help anyhow. BUT…within 30 seconds to a minute after making the move to respond, his second in command apprehended General Ham and told him that he was now relieved of his command. Obama nominated Gen. David Rodriguez to replace Gen. Carter Ham as commander of U.S. Africa Command.
The Obama Administration also relieved the admiral in command of an aircraft carrier strike group in the Middle East, Rear Adm. Charles M. Gaouette. It is highly unusual for the Navy to replace a carrier strike group commander during its deployment.
Throughout the night, sources say Americans on the ground in Libya at times felt helpless and abandoned.
"We relied on Washington for dispassionate assessment," one eyewitness told FOX News. "Instead, they [Washington officials] were asking us what help we needed. We answered: 'Send reinforcements!' "
But they were told immediate help wasn't available!!
Embassy personnel say they repeatedly asked the Defense Attache on site in Tripoli for military assistance.
"Isn't there anything available?" one Embassy official says he asked. "But the answer was 'no.'"
"What about Aviano?" the official pressed, referencing the NATO air base with US assets in northeastern Italy. "No," was the answer.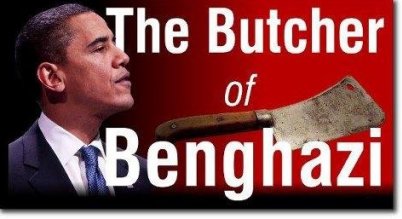 Wild Thing's comment...................
Fire Obama and send him to prison!
Posted by Wild Thing at May 6, 2013 12:55 AM
---
Comments
They just let them die!
General Ham was relieved by his second as he mounted a rescue attempt. It's too bad his second in command didn't have the kahonas to continue the rescue.
Posted by: BobF at May 6, 2013 09:04 AM
---
How can these Democrats defend the actions of the Obama Regime that led to the deaths of four Americans, one of them an Ambassador? Are protecting the Regime more important that the lives of Americans?
Posted by: BobF at May 6, 2013 09:16 AM
---
Chicago thug mentality. obama now has blood on his hands(if he didn't before). The gutless amoral biased MSM continues to cover for him.
Posted by: TomR,armed in Texas at May 6, 2013 10:43 AM
---