« Report: Timeline Shows Obama Administration Knowingly Doctored Talking Points To Mislead Public On Benghazi Attacks | Main | Sen. Jeff Sessions: "Gang of 8′ would give legal status to 57 million, including non-immigra​nt visas"- Future Democrat Voters and criminals! »
May 04, 2013
3rd US Military Support Plane Crashes In Afghanistan In Less Than A Week, 3 Crew From Crash Not Yet Found
3rd US Military Support Plane Crashes In Afghanistan In Less Than A Week, 3 Crew From Crash Not Yet Found
Search teams in Kyrgyzstan were continuing to look for three crew members of a U.S. KC-135 Stratotanker that crashed near the border with Kazakhstan.
Kyrgyz Emergency Situations Minister Kubatbek Boronov said on May 3 that the black box from the plane had been found, but there was no sign of any of the crew.
"The plane broke into five or six pieces. One of the engines was found and some 400 to 500 meters away another engine was found. The main body of the plane was split into two parts," Boronov told reporters.
"We are now searching for the people [crewmembers]. There are three of them, but we have not found them yet. If they were still aboard the plane, they may been burned to nothing because even the metal [of the plane] burned."
Akjibek Beishebaeva, a spokeswoman for the U.S. transit center at the Manas airport near Bishkek, told RFE/RL: "A rapid-reaction team is at the scene of the incident. The status of the crew is unknown. The plane's crew is from the transit center outside Bishkek. The cause of the crash is under investigation."
The plane went down minutes after departing the Manas airfield on route to Afghanistan.
Witnesses in the area of the village of Chaldovar where the plane went down said the aircraft appeared to explode in midair.
There were no casualties reported among local residents.
The U.S. military has been using the Manas airfield since December 2001 to support operations in Afghanistan.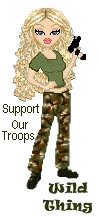 Wild Thing's comment.............
The Carter-Clinton-Obama Syndrome.You gut the military and our people die needlessly from neglect. If that is not what is happening then it is the enemy including Obama.
Posted by Wild Thing at May 4, 2013 12:47 AM
---