« Obama administration officials threatened whistle-blowers on Benghazi, lawyer says | Main | Florida State Senate Passes 'Infants Born Alive' Legislation Unanimously - Good for Florida a step in the right direction! »
April 30, 2013
Special operator claims US could have intervened in Benghazi and Obama is Not telling the truth!
Source comes Forward and Says the Obama Administration is Not Telling the Truth on Benghazi; Rapid Response Force Could have been Sent in Time to Help Americans under Attack

From "Special Report" on Fox News, here is a U.S. "Special Operator" who "watched the events in Benghazi unfold" and is directly contradicting the Administration of Barack Obama.
Unlike the Obama White House, this source is saying that the United States COULD HAVE sent help to Americans under attack at the U.S. Consulate in Benghazi, Libya – but DID NOT.
The identity of the operator was concealed because he fears reprisals from the Obama Administration. The operator said the U.S. had a rapid response force in Europe training in Croatia and they could have been on the scene in Benghazi within 4-6 hours – BEFORE the second attack on the CIA Annex about a mile away from the Consulate compound that killed two Americans. This is the first source who watched the events unfold in Benghazi on September 11, 2012, to come forward and tell what happened. He said other witnesses fear coming forward because of threats against them if they tell what they know.
More installments of this interview are to come in the days ahead. The Benghazi Scandal is not going away for President Obama and Hillary Clinton, as much as they are trying to make it do so. Let's hope there are full-fledged Congressional hearings and investigations to come on this matter so that the families of the Americans who died there can have some answers about why no help was sent for their loved ones.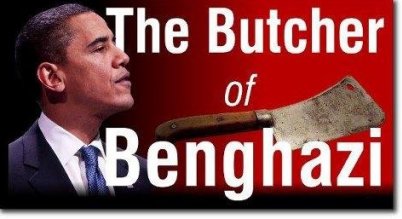 Wild Thing's comment..................
Good for this brave man.
Posted by Wild Thing at April 30, 2013 01:55 AM
---
Comments
The news media will do all it can to cover this up to protect Obama and a Hillary run in 2016.
If the Regime gets away with this, the United States as we knew it has ceased to exist.
Posted by: BobF at April 30, 2013 07:59 AM
---
What's the use of having trained reaction forces if you are afraid to use them? And then lie about their availability. Yeah, Hillary and obama may walk on this and get away with it. Damn media.
Posted by: TomR,armed in Texas at April 30, 2013 05:22 PM
---