« Chris Matthews In Love With Marxist Obama: " I Look at Obama as a perfect American" | Main | Horrible! John Brennan confirmed to lead CIA »
March 08, 2013
Son-In-Law of bin Laden Due in NY Court on Friday

Son-In-Law of bin Laden Due in NY Court on Friday

A son-in-law of Osama bin Laden was captured by the United States — and he has been brought to New York City, where he was to be charged with terrorism, authorities said on Friday.
Sulaiman Abu Ghaith, identified by U.S. counterterrorism officials as a spokesman for al-Qaida, had been deported from Turkey to Jordan, where U.S. agents captured him, law-enforcement officials told The Wall Street Journal.

The charges stem from the Sept. 11, 2001, attacks on the World Trade Center in New York and the Pentagon, Fox News reports.
"It has been 13 years since Abu Ghaith allegedly worked alongside Osama bin Laden in his campaign of terror, and 13 years since he allegedly took to the public airwaves, exhorting others to embrace al-Qaida's cause and warning of more terrorist attacks like the mass murder of 9/11," U.S. Attorney Preet Bharara said in a statement reported by Fox.
"The memory of those attacks is indelibly etched on the American psyche, and today's action is the latest example of our commitment to capturing and punishing enemies of the United States, no matter how long it takes," Bharara said.
Meanwhile, Attorney General Eric Holder said, "No amount of distance or time will weaken our resolve to bring America's enemies to justice," Fox reports.
But holding Abu Ghaith in New York has brought criticism from Republican Sens. Lindsey Graham of South Carolina and Kelly Ayotte of New Hampshire.
They told Fox that the Obama administration's bringing of Abu Ghaith to court in New York was wrong, "sneaky" and against the will of Congress.
As an enemy combatant, Abu Ghaith should have been sent straight to the Guantanamo Bay detainee facility in Cuba for extended questioning, Graham told Fox.

Still, Rep. Peter King, the chairman of the House Homeland Security Committee, praised Abu Ghaith's capture.
"Definitely, one by one, we are getting the top echelons of al-Qaida," the Republican New York congressman said. "I give the [Obama] administration credit for this. It's steady and it's unrelenting and it's very successful.
"It goes right to the heart of al-Qaida, because it's bin Laden's son-in-law," King added. "That's a psychological victory for us and a psychological defeat for al Qaeda."
The FBI flew Abu Ghaith to New York last week, The Wall Street Journal reports, and he has since been talking to interrogators.
It is believed that in 2000 he traveled to Afghanistan, where he joined al-Qaida.
In late 2001, Abu Ghaith appeared on pan-Arab satellite television urging Muslims to battle the United States and warning of more Sept. 11-like attacks. In one video, he sat with bin Laden in front of a rock face in Afghanistan.
The declarations led Kuwait, where Abu Ghaith was born, to strip him of his citizenship. He was a teacher and mosque preacher there.
Last month, Abu Ghaith was arrested in Ankara, Turkey, on suspicion of having entered the country illegally with a false passport.
But Turkey decided to deport him to Kuwait via Jordan — where he was captured by U.S. authorities — instead of simply turning him over to the United States, The Journal reports.
Meanwhile, U.S. terrorism officials are working to determine whether Abu Ghaith might have been held as a prisoner in Iran, according to The Journal.
Officials believe he has been a member of al-Qaida's "management council" in Iran, a group formed in 2002 to advise bin Laden and provide support to the group's leaders in Pakistan, The Journal reports.
Abu Ghaith is expected to face many terrorism-related charges and possibly murder, which could carry the death penalty, Michael Rosensaft, a former prosecutor in the U.S. Attorney's office in Manhattan now in private practice, told Fox.
A trial will last months — if not years — Rosensaft predicted, adding that some of the evidence against Abu Ghaith will be a challenge for prosecutors to bring to court if it is classified.

White House Press Secretary Jay Carney declined to comment on Abu Ghaith's capture during Thursday's news briefing, Fox reports.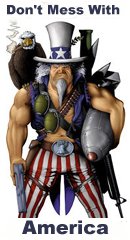 Wild Thing's comment.................
I thought they were going to do all trials at GITMO. Guess I missed something.
Posted by Wild Thing at March 8, 2013 12:47 AM
---