« Benghazi: Six Months of Deceit From Obama | Main | Are you kidding me?? Sports Illustrated Names Limp Wristed Obama One Of The Most Powerful People In Sports »
March 09, 2013
CIA Brennan takes oath on draft Constitution -- without Bill of Rights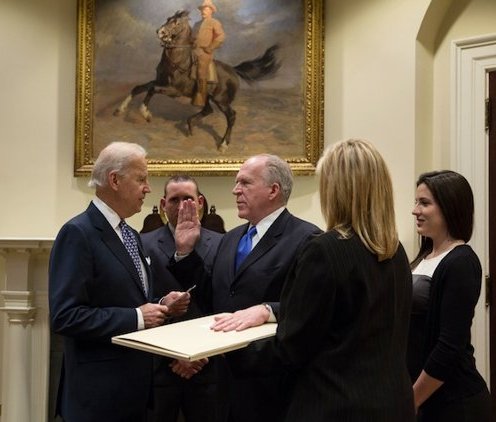 CIA Brennan takes oath on draft Constitution -- without Bill of Rights

This is probably not the symbolism the White House wanted.
Hours after CIA Director John Brennan took the oath of office—behind closed doors, far away from the press, perhaps befitting his status as America's top spy—the White House took pains to emphasize the symbolism of the ceremony.
"There's one piece of this that I wanted to note for you," spokesman Josh Earnest told reporters at their daily briefing. "Director Brennan was sworn in with his hand on an original draft of the Constitution that had George Washington's personal handwriting and annotations on it, dating from 1787."
Earnest said Brennan had asked for a document from the National Archives that would demonstrate the U.S. is a nation of laws.
"Director Brennan told the president that he made the request to the archives because he wanted to reaffirm his commitment to the rule of law as he took the oath of office as director of the CIA," Earnest said.
The Constitution itself went into effect in 1789. But troublemaking blogger Marcy Wheeler points out that what was missing from the Constitution in 1787 is also quite symbolic: The Bill of Rights, which did not officially go into effect until December 1791 after ratification by states. (Caution: Marcy's post has some strong language.)
That means: No freedom of speech and of the press, no right to bear arms, no Fourth Amendment ban on "unreasonable searches and seizures," and no right to a jury trial.
How ... symbolic?

Wild Thing's comment.............
Not good especially if it is an oath taken by a democrat and one named John Brennan especially.
Posted by Wild Thing at March 9, 2013 12:55 AM
---
Comments
Any oath taken by Democrats is noting but words spoken without conviction.
Posted by: BobF at March 9, 2013 07:27 AM
---
I doubt seriously that the Constitution minus the Bill of Rights was an oversight. I am surprised that he did not ask to take his oath on the Quoran....
Posted by: Willy at March 9, 2013 03:04 PM
---
He is a convert to islam. islam urges their adherents to lie if needed to further their conquests. Brennan may have no use for any part of The Constitution. I hope the CIA finds a fatal "accident" for this muslim shithead.
Posted by: TomR, armed in Texas at March 9, 2013 03:59 PM
---