« Former Attorney General Ed Meese: If President Obama "Tried to Override the 2nd Amendment in any Way, I believe it would be an Impeachable Offense" – Video | Main | Today Tyrant and Dictator Obama to announce most expansive gun-control agenda in generations »
January 16, 2013
Obama Just Like Sadam Hussein.....as Obama to Surround Himself With Children During Gun Control Announcement (Video)
Obama to Surround Himself With Children During Gun Control Announcement (Video)
Obama will surround himself with children during his gun control announcement today. Carney said that the president will be joined by Vice President Joe Biden as well as children who wrote to the president after the Newtown shootings.
"They will be joined by children around the country expressing their concerns about gun violence and school safety, along with their parents," Carney confirmed.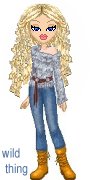 Wild Thing's comment..................
Sadam Hussein used children as human shields, not much different in what the tyrant Obama is doing. Muslims all!!!
Posted by Wild Thing at January 16, 2013 12:50 AM
---
Comments
Someone else in history used to surround himself with children when stating policy for the good of the people. Now, who could that historical figure be?
Posted by: BobF at January 16, 2013 09:26 AM
---
But it's for the child-ren !!!
Posted by: Willy at January 16, 2013 07:15 PM
---