« Good Grief so a bunch of Socialist's a Pro-Obamacare Group Sponsoring Symposium To Train Journalists How To Report On Obamacare | Main | Chicago Alderman Wants GPS Tracking Devices On All Guns »
January 18, 2013
More Left Agenda Pushing....Obama And Biden To Tour The Country To Rally Support For Gun Crackdown - Guess Obama Hates To be with Michelle

Obama And Biden To Tour The Country To Rally Support For Gun Crackdown
Vice President Biden said he and President Obama will tour the country making the case for gun control laws – the centerpiece of which is a requirement that all gun buyers submit to a federal background check.
Biden, speaking to the U.S. Conference of Mayors, devoted the heart of his remarks to pushing the background check requirement twinned with pleas that state and federal governments share their information on prospective gun purchasers.

Obama has already begun recruiting supporters on the gun issue through both his campaign apparatus — which e-mailed supporters Thursday asking them to "stand with the president to reduce gun violence," and the official Web site, but Biden's remarks at the Capitol Hilton mark the first declaration that the White House plans to barnstorm to build support for its gun proposals.
"We're going to take this fight to the halls of Congress, Biden said. "We're going to take it beyond that. We're going to take it to the American people. We're going to go around the country making our case and we're going to let the voices, the voices of the American people be heard."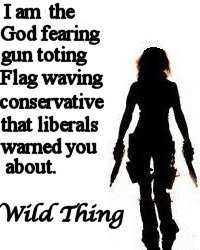 Wild Thing's comment.................

POS Obama has spent more time on the road campaigning then he has at home. Spending our tax dollars to travel to spread his damn agenda, like he did with Obamacare and his begging people to let him spend more and more, now it is guns and wanting to control that.
Posted by Wild Thing at January 18, 2013 12:50 AM
---
Comments
Wonder how much this is going to cost the taxpayers?
Posted by: BobF at January 18, 2013 07:56 AM
---