« Idiot Democrat Rep. Sheila Jackson Lee on House Floor Urges Americans, "Turn in Your Guns" – Video | Main | Obama's Entire Middle East Policy Has Failed And The Problem Is About To Get Worse »
December 20, 2012
A Simple Act of Kindness and Compassion from Gov. Perry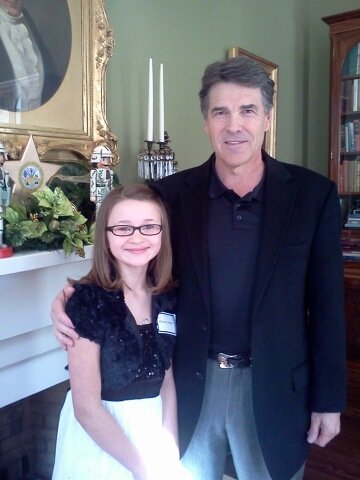 A Simple Act of Kindness and Compassion from Gov. Perry
You can tell a lot about a man just from watching the way he treats his momma, children, and dogs.
The best of men treat all three with the utmost of kindness, respect, and dignity.
This morning I was invited to attend a Holiday coffee reception for the Capitol Press Corps at the newly-renovated Governor's Mansion, hosted by Gov. Rick Perry. We were allowed to invite one guest, so I invited my 11-year old niece to be my date.
As a 6th grader, she's currently studying Texas History in school, and I thought this would be a wonderful opportunity for her to see some real Texas history up close and in person (if you have never been in the Governor's Mansion, the first floor is a remarkable museum of Texas history, with paintings, artifacts, furniture, and collections from governors dating all the way back to Elisha M. Pease, the first Texas Governor to live in the Governor's Mansion upon it's completion in 1854).
Additionally, my niece's dog — a 6-year old Chocolate Lab/Weimeraner mix — was put to sleep yesterday evening after being diagnosed with Splenic Mastocytosis (a form of cancer spreading through his blood stream). I thought that skipping school and going on a little field trip to meet our state's Governor would help cheer her up.
Being that the reception was filled with a bunch of journalists who were busy trying to get a quote for their next anti-Rick Perry screed, rather than acting like guests in the home of the Governor, it was hard to find a moment to introduce me niece — the only child in attendance — to the Governor. When we finally did get a moment, you could tell that he was relieved to get away from the reporters, and invited my niece into the library for an introduction and picture.
I mentioned to Gov. Perry – a big dog lover himself (we met his black Lab, Rory, at the end of the reception) — that my niece had just buried her beloved dog Nolan (named after the Texas legendary pitcher Nolan Ryan) the night before. Gov. Perry immediately put his arm around her shoulder and said, "Come on, I want to show you something." Then the two of them slipped out a side door between the dining room and the library and disappeared together out onto the Mansion grounds.
When they came back in about 15 minutes later, my niece told me that Gov. Perry had taken her outside to show her where his last dog, Lady Perry, was buried on the Mansion grounds, and talked to her about life and loss and the value of a good dog.
It was a moment of simple and genuine kindness toward a little girl still mourning the loss of beloved dog, but one that made a huge impression on her. And one that she and I both appreciate immensely. Thank you, sir.
There's a scene in the movie Cookie's Fortune, where Willis Richland (played by Charles S. Dutton) is sitting in jail, suspected of killing his long time friend Jewel Mae "Cookie" Orcutt (Patricia Neal). The Sheriff (Ned Beatty) tells the prosecutor "He's innocent." When the prosecutor asks how he knows that, the sheriff says, "Because I've fished with him."
I was reminded of that scene while driving my niece back to school. And reflecting on some of the other times I've spent around Governor Perry. You may not like his politics. You can mock his debating skills and inability to remember the third item on a list of three. But he's a damned good and decent man. I know; I've seen how he treats dogs and children.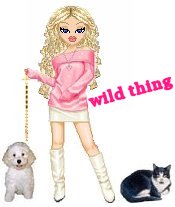 Wild Thing's comment....................
Gov. Perry is such a good man, a special man. I will always be one of his supporters.

....Thank you Tom for sending this to me.

Tom

1st Aviation Brigade, US Army
RVN, Sep66-Mar68
US Army Special Forces
1970-72


Posted by Wild Thing at December 20, 2012 12:55 AM
---
Comments
We can only imagine what a great president he would have made.
Posted by: BobF at December 20, 2012 09:36 AM
---
We are so lucky to have Rick Perry as our governor. There are several good and decent men in our state government. State AG Greg Abbott is another great man. They are bright lights in a dim American political world. One measure of how good Rick Perry is, is how much obama dislikes him.
Posted by: TomR,armed in Texas at December 20, 2012 01:43 PM
---
Bob and Tom, thank you so much. I agree, Perry would make a great President.
Posted by: Wild Thing at December 21, 2012 12:31 AM
---