« Actress Stacey Dash Endorses Mitt Romney | Main | CEO to Workers: You'll Likely Be Fired If Obama Is Re-elected »
October 11, 2012
Wife Of Army Sniper Killed In Afghanistan Overjoyed To Hear Romney Talk About Her Husband, "One Of The Last Things He Said To Me Was 'I Need A New President'"
Jane Horton began crying on the other end of the phone when she learned that Mitt Romney had been using the story of her husband, Chris Horton, who was killed in Afghanistan, as a part of his stump speech.
"Wow," the 26-year-old said. "I had no idea.
"To be honest, I've been through a lot and I'm not a super emotional person but it brings me to tears," Horton said in an interview with ABC News, after being informed of her husband's newfound spot on the national stage. "Not that he's telling my story, but that he's telling my husband's story, it means the world to me.
"One of the last things my husband said to me before he was killed, when I would ask him, 'Chris, what do you need over there? What can I send you?' he said, 'I need a new president,'" Horton recalled.

Chris Horton, who was acting as a combat sniper in the Oklahoma National Guard, was killed when he and several others were ambushed in Paktya, Afghanistan, in September 2011. When he was buried, protestors from the Westboro Baptist Church turned up at his funeral, and as Romney now tells it to crowds of thousands, his wife wasn't angry.
"She was asked what do you think of that and this is the quote she said this, 'Chris died for them to be able to protest,'" Romney said at a rally last weekend in St. Petersburg, Fla. "This is quite a nation we live in. There are some extraordinary people."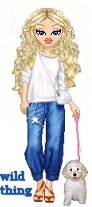 Wild Thing's comment..............
God bless this wife of a Hero. She is a Hero too for taking a stand for her husband.
R.I.P. Chris Horton.
Posted by Wild Thing at October 11, 2012 02:40 AM
---
Comments
Yes. God bless both of the Hortons.
Posted by: TomR, armed in Texas at October 11, 2012 09:49 AM
---