« 15 Military Groups Up in Arms in Opposing Obama's Ohio Voters Lawsuit (Video) | Main | What America Will Look Like if Obama is re-elected »
August 06, 2012
Success!!! NASA's 'Curiosity' Rover Lands on Mars...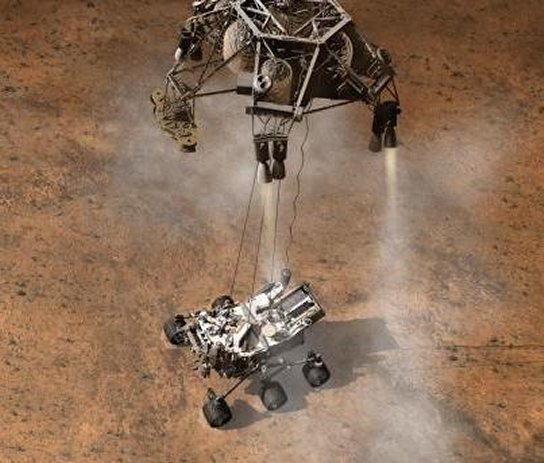 The car-size, one-ton rover Curiosity touched down on Mars at 1:31 a.m. EDT Monday.

NASA's most high-tech Mars rover on Sunday zeroed in on the red planet where it will attempt a tricky celestial gymnastics routine during a "seven minutes of terror" plummet through the atmosphere.
The Curiosity rover was poised to hit the top of the Martian atmosphere at 13,000 mph. If all goes according to script, it will be slowly lowered by cables inside a massive crater in the final few seconds.
NASA was ready for the "Super Bowl of planetary exploration," said Doug McCuistion, head of the Mars exploration program at NASA headquarters.
"We score and win or we don't score and we don't win," said McCuistion.
If all goes well, mission control at the NASA Jet Propulsion Laboratory should hear a signal at 10:31 p.m. Pacific. The space agency warned that confirmation could take longer if an orbiting spacecraft that's supposed to listen for Curiosity during the descent is not in the right place.
Curiosity's trajectory was so accurate that engineers decided to wave off a last chance to tweak its position before atmosphere entry.
.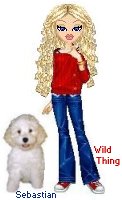 Wild Thing's comment...............
CONGRATULATIONS! It was great, I got to see it land very early this morning as I was working on my blog. Nick and I cheered the project and landing together. God bless these people for all the work they have done.
Posted by Wild Thing at August 6, 2012 01:55 AM
---
Comments
Here's an exciting video of just how complicated and difficult a feat it was for this landing on Mars. The five minutes is worth your time and will make your day:
http://www.youtube.com/watch?v=h2I8AoB1xgU
I've been following this since its launch last Thanksgiving on an Atlas V rocket from Cape Canaveral.
The naming of the rover was incidentally submitted by a sixth-grader, Clara Ma in an essay contest. It's wonderful how NASA ties young people into the program.
All images seen here on Earth are not real time, but 14 minutes delayed as it takes that long for them to travel the distance from Mars.
I don't seek to politicize this, but it is noteworthy and necessary to point out that the funding of the Mars Science Laboratory and the Curiosity Rover, which dates back to 2004 during the Bush administration, escaped this administration's severe gutting of the NASA program's budget altogether.
These modern day Democrats call themselves "progressives", but they truly aren't progressive at all, leading us not to the Moon, Mars, and beyond, but so entirely regressive not leading but dividing us, back in history, into the cave with its depravity, decadence with all this redistributive nonsense and misery for all.
Government exists only to do what citizens cannot do for themselves.
NASA's funding, its programs and its fine group of engineers and scientists in Cape Canaveral, Houston and Pasadena needs to be restored to the levels of funding prior to this administration and its backward collectivist policies.

Posted by: Carlos at August 6, 2012 07:18 AM
---
Carlos, thank you so much for the video and all the information.
Posted by: Wild Thing at August 7, 2012 04:14 AM
---